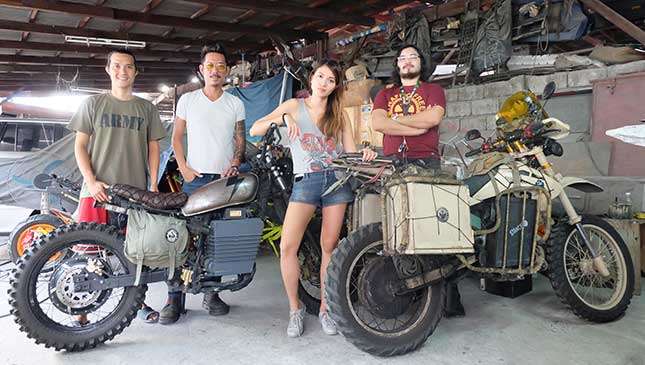 Riders usually frown at the sight of electric-powered motorbikes or e-bikes, which they deem as mere novelties that are miles away from the real rides. And it is true to some extent, given the kind of e-bikes that have made it to our shores earlier. You know, the kind that you can outrun with your own two feet.
But some e-bikes nowadays are more powerful and good-looking as well. Not all of these great electric bikes are created by big motorcycle companies. Some of them are actually creations of ingenious guys who want an alternative mode of transportation.
Continue reading below ↓
Recommended Videos
It's about time you guys know about Apocalypse Custom Electric Motorcycles. A brainchild of entrepreneurial rider Gabriel Yeung, partner-rider Mon Pineda and mechanic-rider Harry Dela Peña, Apocalypse customizes e-bikes inside a Pasay City garage.
With thorough research, the group can do magic by turning motorcycles with combustion engines into electric-powered two wheelers. Moto Sapiens was gladly accommodated by the group's publicist Romina Nañagas, for a test ride of one of their finished products.
Seeing Mon's electric scrambler lovingly dubbed Estelle (get it?) for the first time was like seeing a unicorn in the middle of EDSA. It's a majestic creature of steel from the set of Mad Max.
Riding Estelle was a surprise, in that she was hot to trot. We were actually afraid to take too sharp turns.
"The thing with electric bikes is that they don't have that gradual spike in power you feel in a gasoline-powered motorcycle," Mon explained. "The thing could zoom upwards to about 80-120kph in seconds."
Estelle is very light in her nakedness. Having been stripped of her original motor and chain, she was quite nimble and agile. I felt like Batman, thanks to the wide stance afforded by its handlebars.
People did double takes as we rode in Pasay. Obviously, like us, they couldn't believe what they're seeing. Indeed, as much as Estelle looks ready to rumble, she purred discreetly as any e-bike.
Since it was turned into an e-bike, the exhaust system and chain drive were no longer there. Gone were the harmful emissions, too. Because of Estelle's deafening silence, the group was thinking about mounting speakers on the e-bike to create a bit of engine noise. When running fast, the only noise you could hear is the bike's knobby tires.
Equally impressive is Gabriel's own e-bike that looks like it rolled out of a military surplus store. We didn't dare test-ride it, afraid it would suddenly transform itself into the Terminator if we pushed the wrong button.
It turns out that Gabriel's e-bike is more powerful than Mon's as the former uses three huge-ass batteries to power the electric engine. The usual e-bike runs on 350-2,000W of power tops, but the Apocalypse units run at over 20,000W capacity.
Before these two motorcycles were taken to the surgery room, they actually bore the Rusi logo and were running with 150cc fuel-powered engine.
"At the time I was looking for an e-bike that would suit me," Gabriel said. "I found out, however, that most of those available in the market were kind of inadequate. Aside from being too small, they weren't fast enough, and they didn't last far enough. I decided if I want an e-bike as I imagined it, I would have to build it."
This is where Harry came in. Harry has been working on e-bikes and scooters for years. Like Gabriel, he also wanted a more powerful e-bike. There were many false stops and starts before they finally got to where they wanted to be. Mon's bike, for instance, had several iterations before it became what it is today.
For those worried that the bikes wouldn't run during rainy days, Mon said that both e-bikes have been tried and tested in different weather conditions. As long as you keep the controller safe from floodwater, the e-bikes would be fine.
Mon's bike could travel 60km on a three-hour power charge. It took around P180,000 and three months of waiting to convert Estelle to what it is now. The controller and motor hub were imported so they had to go through the Bureau of Customs. If you prefer a more powerful e-bike like Gabriel's, prepare to shell out at least P300,000.
The e-bikes' two water-proof batteries are locally available. Gabriel claims that the batteries can last up to five years. Gabriel and Mon ride their bikes daily, hoping they would be noticed by the Department of Science and Technology.
Do you want a ride like theirs?