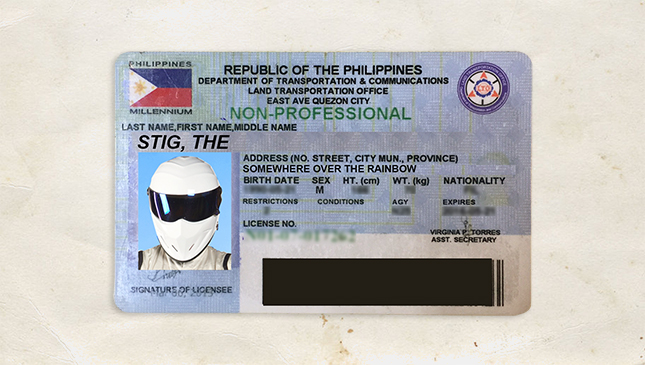 Are you familiar with the restriction codes printed at the back of your Driver's License?
If you haven't checked and it turns out that you're not authorized to drive the vehicle you're using under the regulations set by the LTO, you become an easy target for a traffic citation ticket for 'driving with an inappropriate driver's restriction code.' You instantly lose P3,000 which could have gone to a new pair of denims.
It is important to familiarize yourself with the restriction codes on the LTO driver's license. This move is not only to spare yourself from hefty fines for violating LTO regulations, but also from possible extortion by erring traffic personnel.
Continue reading below ↓
Recommended Videos
"Marami po ang binabalewala ang Restriction Code and this might put you in trouble," says an instructor when I sat in during a classroom session at the Honda Safety Driving Center (HSDC).
The Restriction Code—numbered from 1 to 8—does not indicate the level of your driving skills. Also, you have to apply for each and every level.
One Restriction Code states the types of vehicles you are authorized operate on Philippine roads. If wondering if the Restriction Code by the LTO also applies to other countries (assuming that country recognizes our driver's license), it depends on the country you'll be driving or riding.
First of all, let's make it clear that having a valid driver's license—either non-professional or professional—does not automatically mean you may ride a motorbike. This is a common misconception mostly among newbie drivers.
Even if you're an experienced truck driver, certified stunt driver, track veteran, you still have to apply and pass the LTO exam for motorbikes before you can legally ride motorized two-wheelers.
Confused? Pullout your driver's license from your wallet and check the details of the Restriction Code for which you are qualified:
1) Restriction 1: This allows you to ride motorcycles and tricycles of any engine displacement. But having a license that indicates only this restriction code prohibits the holder to operate cars and, more so, buses and trucks.
2) Restriction 2: Licenses bearing this restriction code may drive a car, SUV, pickup or any other vehicle with a GVW (gross vehicle weight set by the car manufacturer) of 4,500kg.
3) Restriction 3: Allows a licensed individual to operate a vehicle with GVW above 4,500kg, mostly delivery vans and commercial vehicles with a manual transmission.
4) Restriction 4: This permits the driver to manuever a vehicle with GVW up to 4,500kgs with automatic transmission. However, he is not authorized to drive a unit with a manual transmission under the same weight category.
5) Restriction 5: This restriction code allows the driver to operate delivery trucks with an automatic transmission and with a GVW up to 4,500kg only. He cannot operate a delivery unit with a manual transmission.
6) Restriction 6: This allows the driver to operate articulated vehicles with a GVW of 1600kg and below.
7) Restriction 7: A driver's license holder may operate articulated vehicles from 1601kg up to 4500kg.
8) Restriction 8: Articulated vehicles with a GVW of 4501kg and above.
In a bid to improve traffic flow and curb criminality, the first thing traffic authorities look for when they flag down a vehicle at a checkpoint is the driver's license. After they determine the validity of the driver's license, the next thing they check is the Restriction Code before asking for the vehicle's registration documents.
Having a driver's license is not the right of an individual. It's a privilege granted by the government and it may be revoked any time the holder is entangled in a serious offense or a series of traffic violations.
Again, let us emphasize: Ignorance of the law excuses no one.