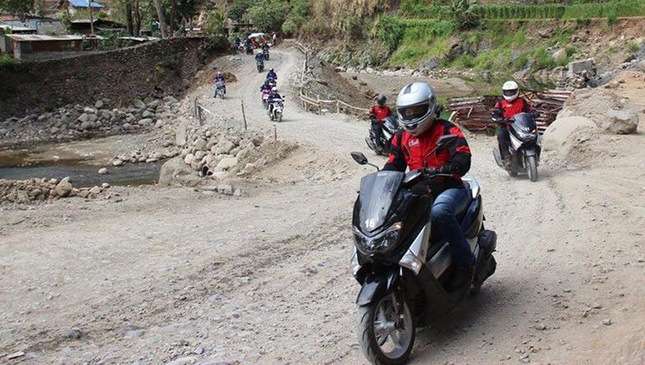 For the past few years, I've been seeing social media posts and reading about Sagada. I was so fascinated and intrigued by the stories and would always mentally bookmark it as one of the top items on my travel list. Unfortunately, my tight schedule would never allow a trip to such far destination. But a few weeks back, my sched opened up.
I got a message from Moto Sapiens editor Aris Ilagan, asking me if I have time to take an assignment to Sagada. My reply to him was a resounding yes. My dream-turned-into-reality was brought by the Yamaha YClub Presidents Ride held last month.
Thirty-nine participants from different Yamaha clubs from all over the country attended this much-anticipated event. Nineteen of them are elected presidents of their respective motorcycle clubs, all followers of the Yamaha brand. According to Yamaha Motor Philippines Inc. marketing senior manager Ryan Jude Camus, this bi-annual ride event is on its third year already.
From Manila, we took shuttle buses to Baguio, where we were treated later to a delicious welcome dinner. We then opted to sleep early to recharge.
Amid the heavy fog, we took off from Baguio around 5:30am on Yamaha FZ1 and TFX150 street motorbikes, R15 sport bikes, and NMax scooters. As a media participant, I was provided a sexy NMax 155cc scooter.
It was my first time to ride the NMax scooter and the first challenge was going down the very steep, slippery driveway of the hotel in Baguio. So I prayed, "Lord, I cannot take a fall here. Not when the ride hasn't even started!"
As we rode, we were led to twisties. The last time I used a scooter was in UP Los Baños during my postgraduate studies, but that was just a school-to-house riding experience not longer than a kilometer.
I discovered how the NMax easily tackled the different road conditions, mostly combinations of wide and tight twisties. This probably explains why the Halsema Highway is ranked Number 9 in the 25 Most Dangerous Roads in the World.
Not to be underestimated, the ABS-equipped 155cc bike easily handled the occasionally slippery twists and turns and steep climbs. Remembering my husband's advice on mastering throttle control, I found the NMax's engine very responsive, which made ascending and descending on Halsema's slopes worry-free.
Halsema's cold, harsh winds gave more challenges to our group. Organizers said the temperature was down to 12 degrees, but we thought it was worse because I still struggled with the cold despite my four layers of clothing. To make sure that none of us were hit by hypothermia, we would intermittently flash the riders' hand signals to check that everyone's still okay.
Upon reaching Sagada, we were led to the Sumaging Cave, Sagada Hanging Coffins in Echo Valley, and Sagada Pottery place. I was thrilled that the places I had heard of and read about so much were finally a first-hand experience for me. The rave reviews I read are definitely not unwarranted. It is such a breathtaking place to be in, and I know I will definitely be coming back.
The following day, the participants left Sagada at the break of dawn and headed back to Baguio. After a quick lunch in the City of Pines, we had the last stop at La Trinidad Valley for strawberry picking before shuttling back to Manila.
The whole ride event had the perfect mix of fun, adventure and camaraderie. Safety and defensive riding were strictly observed throughout the 400km Baguio-Sagada-Baguio trip. Congratulations to Yamaha Motor Philippines Inc. for hosting and successfully organizing this great ride, and for ensuring the safety and enjoyment of all.
For a Sagada newbie like me, it was indeed an epic ride!