It all seemed innocuous enough when BMW Philippines, through its new distributor, San Miguel Corporation Asia Car Distributors (SMCACD), invited riders to a breakfast ride on Sunday, December 9. All brands were welcome; it would be a quick trip to Pampanga. Little did we know that breakfast would be the last thing on the agenda.
Taking off from Makati, we made our way north, and despite insane gridlock around San Simon due to a horrendous accident, the sheer number of bikes making their way down the NLEX gave us some hints as to just how special the day would be. We arrived amid a sea of machines, from boxer retro R nineTs to fully decked-out GS Adventures.
As we scarfed down our meals, BMW Philippines president Spencer Yu took the stage to thank everyone for coming. He then invited us to shift our gaze from the smorgasbord to the four BMW motorbikes already on display in the middle of the buffet area.
These were some of the new models being offered by BMW Motorrad locally. They were two R nineTs in a new 'Option 719' configuration that included sizzling metallic paint jobs dubbed Mars Red, Black Vintage and Pollux; and the brand-new F 850 GS and F 750 GS. While the R nineTs were jaw-droppingly gorgeous, the F 850 was the crowd pleaser with its modern styling and much sharper design as compared to the outgoing model.
We barely had enough time to gawp at the four bikes when Yu announced that BMW Motorrad was also introducing an all-new model to the lineup—something to make city commuting second nature, he said. Then, the lights dimmed and a pair of BMW C 400 X midsize scooters entered the events center to rapturous applause.
The scooters share their front headlight design with the much larger GS models, and introduce a new full-color control screen in lieu of traditional analog gauges. Extremely stylish and unabashedly BMW, the scooters clearly had a lot of riders salivating at the thought of owning BMW midsize commuters to complement the larger motorcycles already inside their garages.
The new bike is powered by a 34hp 350cc single-cylinder engine paired with a CVT. It has a lot of great convenience features, such as the expandable underseat storage. It will go on sale next year and is priced at P450,000.
As we were all ready to storm the stage to check out the pair of scooters, Yu pulled yet another rabbit out of the hat when he told us there's just one more thing...which then came storming out through the side entrances and onto the stage. And it was actually more than one thing: It was a trio of all-new R 1250 GS units entering through a cloud of fog. The hero GS in the center was the 'HP' spec, proudly sporting Motorrad's signature red, white, and blue.
While we had known for a while that the latest GS would be arriving sometime in the middle of next year, nobody could have expected that only a few months after its world premiere in EICMA, it would already be on our shores. Such is the confidence of SMCACD in the model that the Philippines is, according to Yu, the first country in Asia to have the honor of receiving the R 1250 GS. He also told Moto Sapiens that the GS units were flown in just for this event, with the bikes landing in the Philippines only five days before their reveal in Pampanga.
The GS is already making waves abroad as reviews pour in, and while we don't have a definite price for the local market as of the moment, expect it to be around P1.4 million to P1.6 million, depending on the specification. The all-conquering GS is powered by a traditional 1,254cc boxer-twin putting out 136hp and 143Nm of torque, and is equipped with everything except the kitchen sink. It is set to be one of the most important bikes in the local market when it goes on sale in mid-2019.
(Editor's note: BMW Motorrad PH later announced the SRP for the following models- R 1250 GS HP (main photo), P1,570,000; R 1250 GS Exclusive, P1,520,000; and R 1250 GS Cosmic Blu, P1,490,000).
BMW Motorrad Philippines had a whirlwind event that, while starting out as a simple breakfast affair, turned into a show of force by SMCACD and a promise of commitment by BMW to supply the needs (and desires) of every motorcycle enthusiast in the country.
With Christmas just weeks away, we already know what present we want to receive. Do you?
BMW R 1250 GS Cosmic Blu (P1,490,000)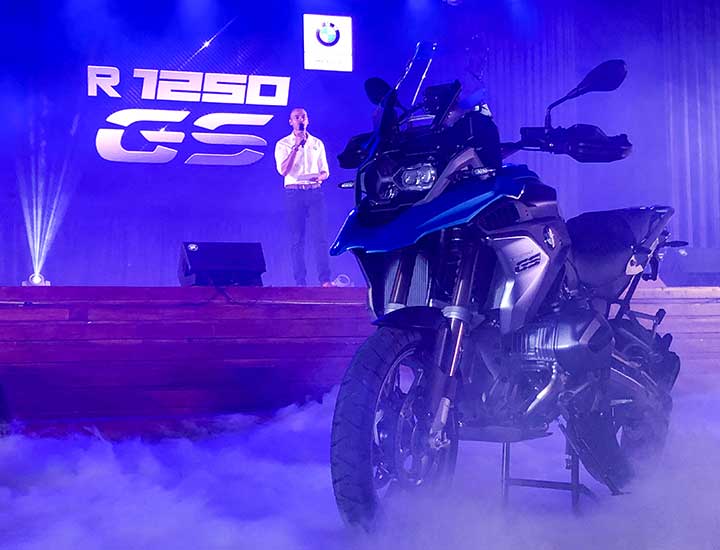 BMW C 400 X Base (P450,000)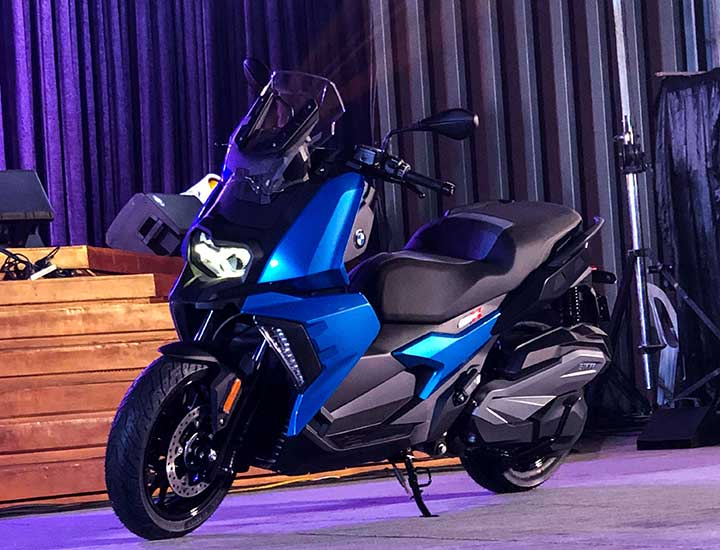 BMW R nineT Option 719 Mars Red (P1,290,000)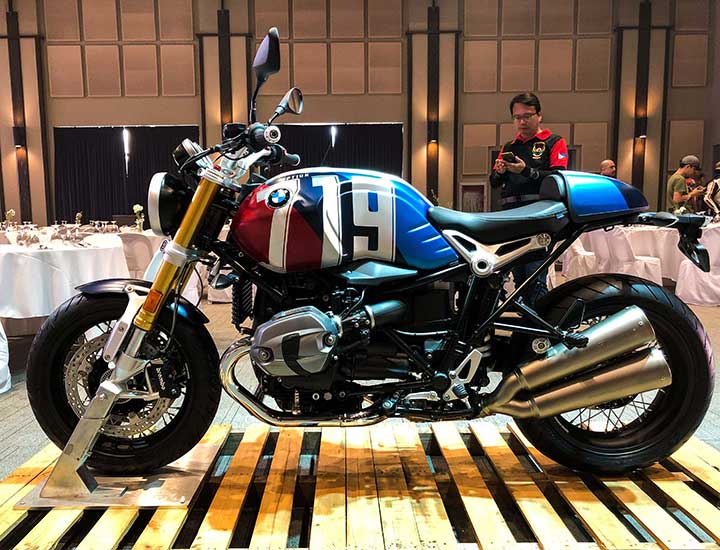 BMW R nineT Option 719 Black Vintage (P1,270,000)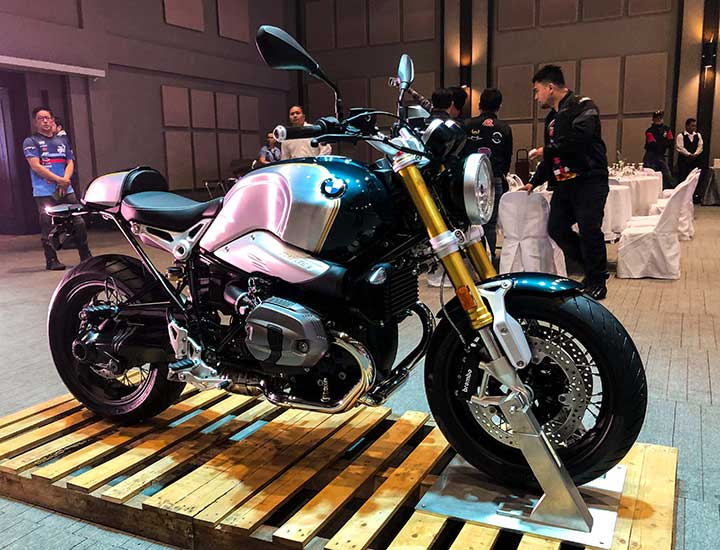 BMW F 850 GS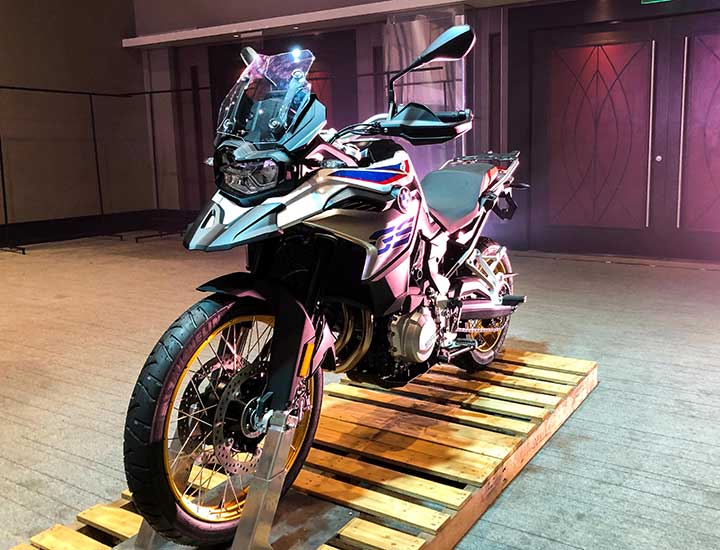 BMW F 750 GS