What in the name of suck, squeeze, bang, blow is that?
Behold the Triumph Rocket 3 R. And that's not some namby-pamby marketing name, either. It's actually incredibly relevant. Namely, because this two-wheeled whopper currently holds the 0-60mph (97kph) production-bike record, completing the sprint in just 2.73sec.
But that's just the start of an incredible CV. Because, just like the Dodge Demon, this is the bike full of 'firsts,' 'mosts,' 'biggests,' and 'fastests'—making it the most sought after card in pub Top Trumps.
See, as well as being the fastest two-wheeled sprinter in the world, having a 2,500cc motor also means it's the largest-capacity production bike in the world. As well as also being the torquiest production motorbike you can buy, so it's a bit of a monster. And one imposing mother-clucker to boot, especially as it weighs 291kg dry, and over 320kg when full of fluids. A lot for a bike.
Two and a half liters! That's bigger than most car engines.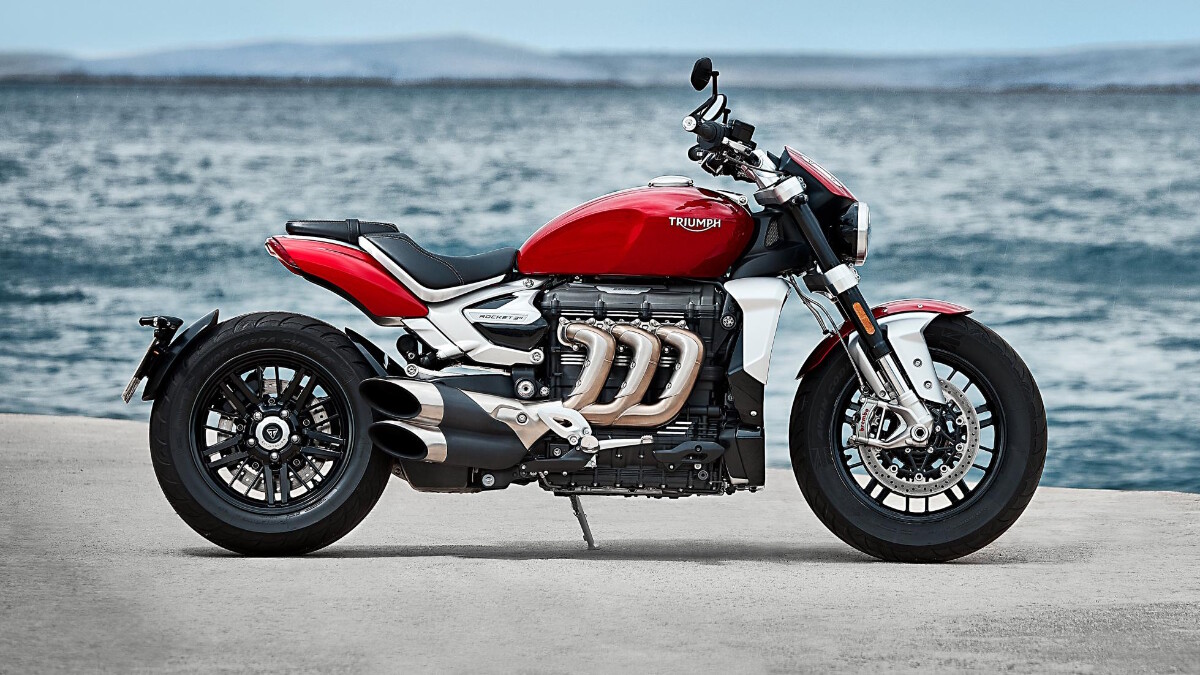 Continue reading below ↓
Recommended Videos
Yep. Where the public's perception of a big bike is the hefty watermark of a 1,000cc sports bike, the Triumph looks at that lot, shrugs and says "that's cute" before bulldozing through with an in-line three-cylinder with the capacity one and a half times the size. For context, 2.5 liters is the same capacity that you get in a Porsche Cayman S. And this is a motorbike. Let that marinate in your brain for a minute.
When did this madness begin?
The idea of putting big engines in small things dates back to the existence of humankind. In fact, there's probably a cave painting somewhere in Australia with someone 'hot rodding' a shrub or something. The kernel for the idea of the Rocket dates back to 1998. However, it was only in 2004 when a production version arrived—a 2,294cc cruiser that snatched the crown of the largest-capacity production bike in the world.
It was caught between two markets. So for the Rocket 3, Triumph made it more powerful, faster, and 40kg lighter—and, crucially, made two versions: the R, a naked roadster model aimed head on at Ducati's Diavel, and the GT, a touring version with a more relaxed riding position (the handlebars are pulled back by 125mm, while the foot controls are set further forward), a 23mm lower seat, a screen, heated grips, and a back brace for whoever you want to plonk on the back. Trust us, they'll need it.
Looks cool.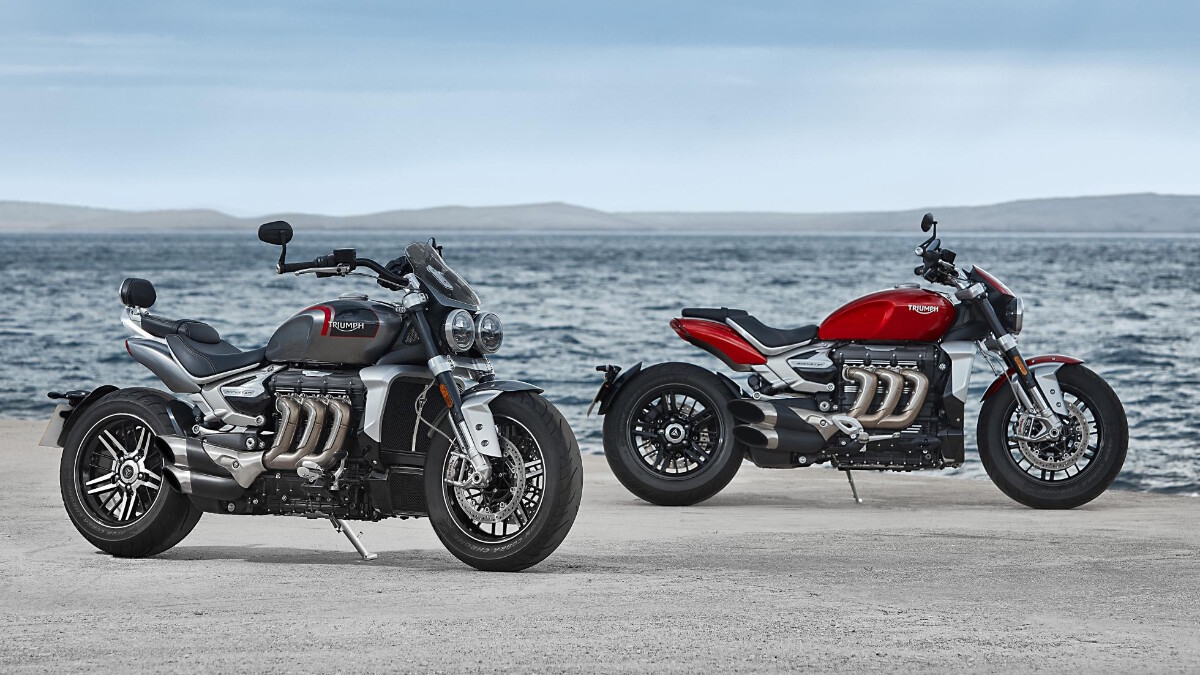 Sure does. It has a sort of industrial chic to it—with everything being big, brutalist, and muscular, but also softened off thanks to swooping curves and those sculpted triple-header exhausts. It's fitted with specially developed Avon Cobra Chrome tires, and the 240mm rear wheel width shows people you mean business and have oodles of torque to try and get down. Then there's a single-sided swingarm with monoshock suspension and fantastic aluminum detailing littering the whole bike.
What's it like to ride?
Intimidating at first, mainly because there's so much of it. The fuel tank is the size of a Barbadian twerking champion, the engine is hot and heavy, and the wheelbase long. This being such a heffer, low-speed maneuvering is a chore. And scary. Because if you're anything but Popeye and you drop this thing, you'll need a small army of helpers to help you get it back up. Which is even more people to point and laugh at you for dropping it in the first place.
But the almost magical element is that as soon as the tires start rolling, it shrinks in size and its imposing nature falls away. A bit like when a gym hardo has a gin and tonic then watches a romcom. This is largely thanks to clever weight distribution and my lack of understanding of physics. But Triumph has worked hard on it, giving the Rocket 3 an all-new frame made from two aluminum sections that are bolted around the engine rather than welded so the central core is hollow, which allows Triumph to use the central spine of the bike as an airbox.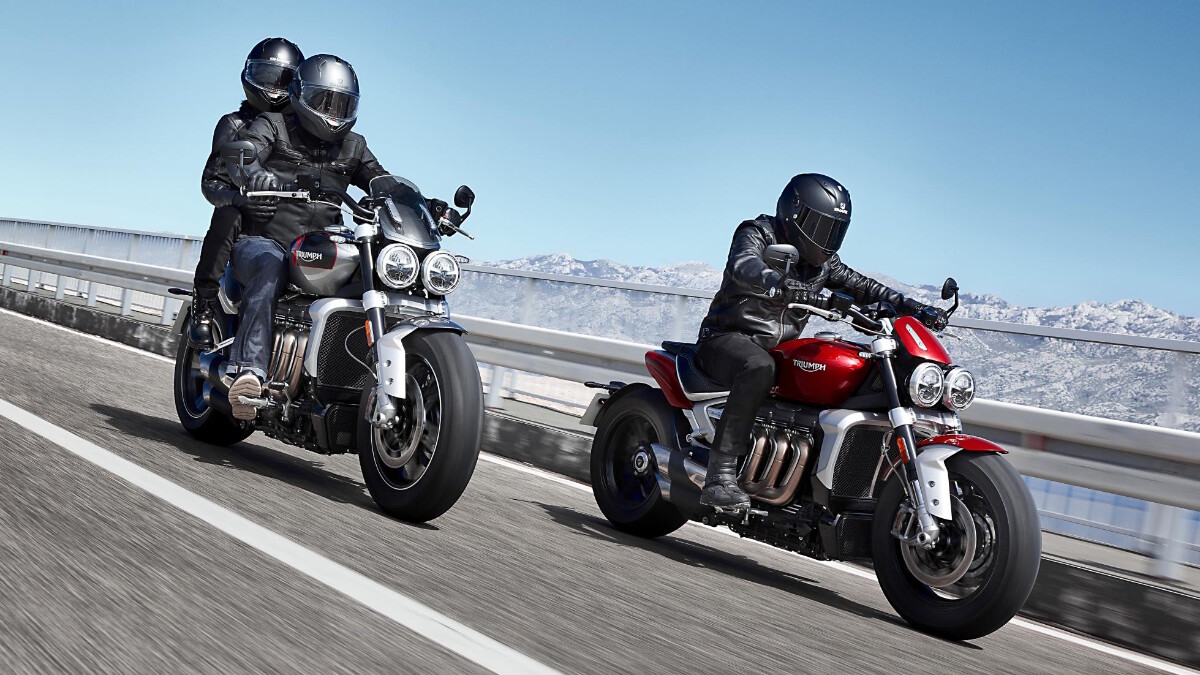 It's keener to turn than you'd think, too. Looking at that engine, you'd assume it'd be a straight-line torpedo that just wanted to fire itself at the horizon while you clung on and cried for help. But it's not. It wants to hit the twisties and move around. Again, this is helped by the fact Triumph lopped off a load of lard from the old engine, shedding 18kg and reducing the circulation mass, allowing for 7,000rpm to be unlocked and a new peak power figure of 164.7hp—an 11% increase over its forefather. But it's the torque that blows you away...
Why's that?
Well, if you've ever been in an electric car that's gunned it away from the lights, you've felt the curdling force of torque. Now, imagine that ultra-responsive force being unleashed with a crack of throttle while you clutch your thighs around a tank completely exposed to the elements, while the induction noise underneath your gussets intensifies. It's a wild ride that never gets any less hilarious.
Numbers just start to roll around on the TFT speedo like you've won the jackpot. Then you quickly realize you don't want to be thrown in jail. Or be dead. So, you wind it down a notch. We just wish it'd sound better at all speeds. Because with an engine this, size you want it to throb and scream, but it's docile and soft. You can blame the EU and their emissions regulations for that.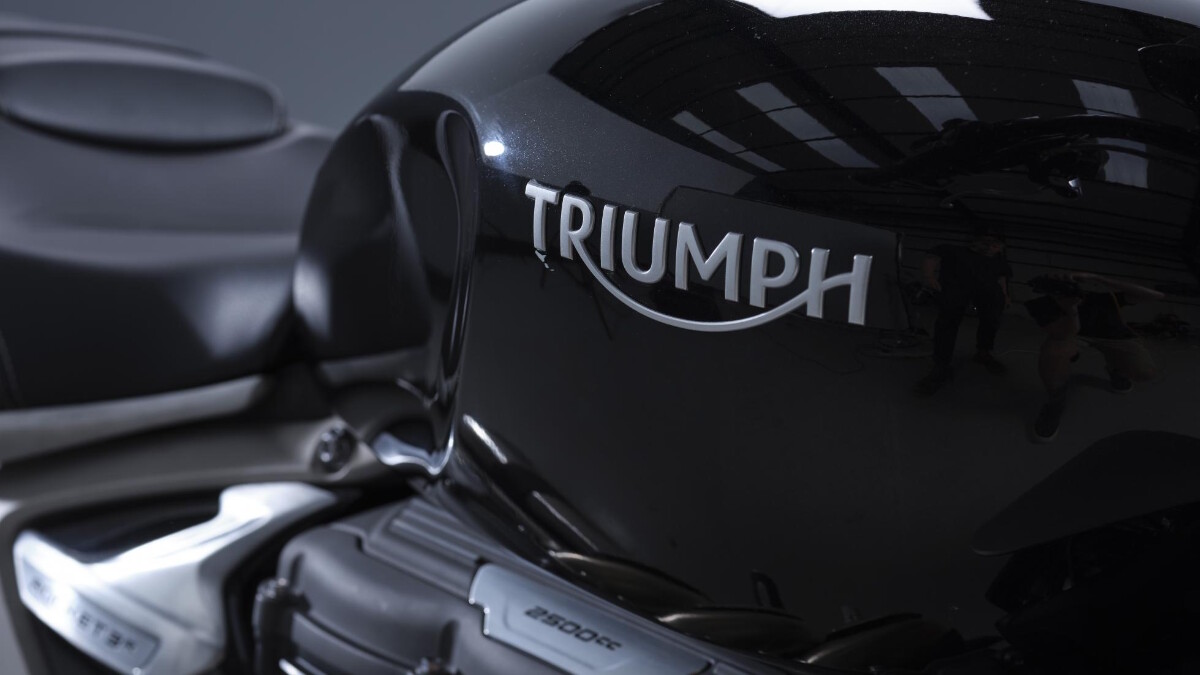 But the Rocket—even in R form—is no one-trick pony. It's actually incredibly comfortable to cruise on. You just select one of the less aggressive riding modes, and given it's got all the torque, you can select any of the top cogs in the six-speed gearbox and it effortlessly pulls through them. It's even got cruise control if you're feeling really lazy.
How much is it?
A lot: £19,500 (P1.22 million) for the Rocket 3 'R', with the sledgehammer cruiser retailing at £20,200 (P1.26 million). And you'll need to save some pennies for fuel, too, as it'll down whatever fuel is in the 18-liter tank quickly if you're liberal with the throttle. But if you want to be the king of Top Trumps in the pub, this is the price you'll have to pay. Which to some is all the reason they need.
NOTE: This article first appeared on TopGear.com. Minor edits have been made.