Love them or hate them, underbones are what rule the streets of the metro right now. They're highly practical models with their slim, compact, and lightweight frames, affordable price tags, and efficient fuel consumption, so it's no wonder you see one on busy roads every few seconds.
These two-wheelers continue to attract a huge following of enthusiasts who want to get the most performance possible out of their dependable city-slicking runabouts. Enter the "sports underbone," a sub-class blessed with sport-bike-inspired features, styling, and performance. You often see bikes of this type zooming through town, around the bends of mountain passes, or even on the track, where one-make races are often held for these sporty yet easy-to-ride steeds.
Honda Philippines' entry to this segment is the RS150R, a performance-oriented 150cc machine that supposedly takes after its bigger, faster stablemates like the CBR. Does it really deserve the extra 'R' in its name? Let's find out.
ADVERTISEMENT - CONTINUE READING BELOW ↓
Styling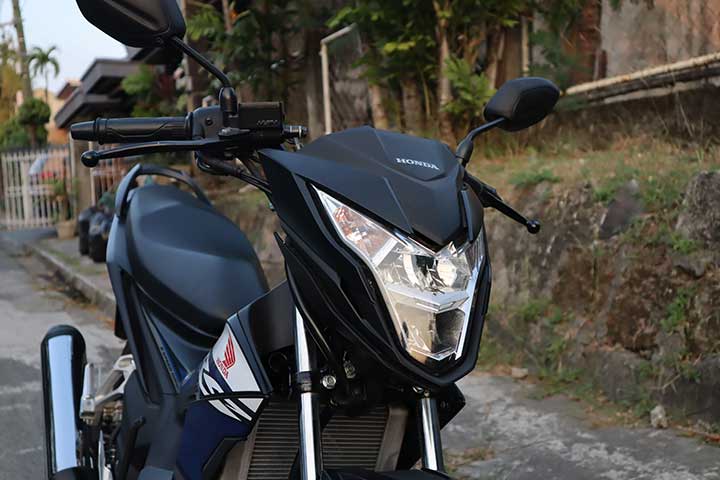 The RS150R is quite the dashing little bike, especially with its sharp LED headlight that shares design cues with those of Honda's big bikes. The overall design has an abundance of aggressive lines as well as little air vents for added sportiness. The blue-on-black color scheme on the unit we rode complements these edgy details, lending the RS150R a cool, yet subtle presence. The sharp and futuristic taillight with integrated turn signals boosts the coolness quotient, too.
ADVERTISEMENT - CONTINUE READING BELOW ↓
Recommended Videos
The all-digital dash rounds out the RS150R's futuristic feel, and even the screen is shaped with an abundance of corners as well.
That said, considering this is a Honda bike with an 'R' at the end of its name, I feel that wider front and rear tires would've been more appropriate for the sporty image it projects. Nevertheless, it looks every bit a sporty underbone.
The saddle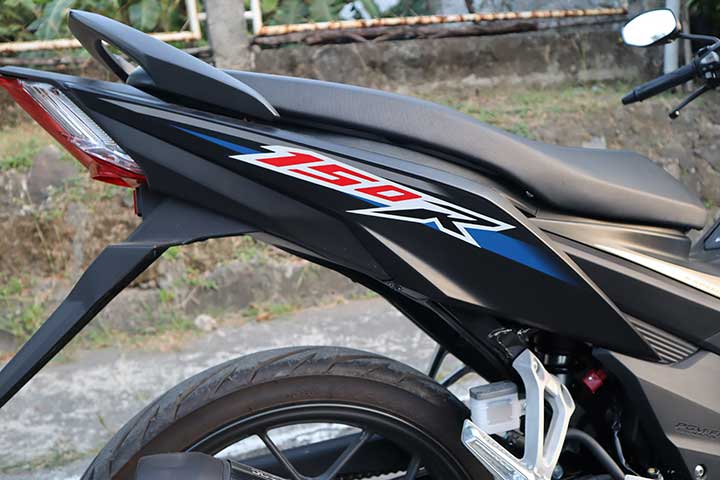 ADVERTISEMENT - CONTINUE READING BELOW ↓
As with many bikes in the underbone class, the RS150R has quite a narrow seat, which provides for a beginner-friendly riding position that easily lets the rider's feet reach the ground. The perch itself, however, is a bit too stiff and slippery for my taste, and it makes riding a bit more complicated as I have no gas tank to latch onto with my legs when braking. But if the slight discomfort of a sport seat is the feel that Honda is going for, then the designers got it right. If you're planning on taking the RS150R touring, an aftermarket seat will take the experience from "pwede na" to "pwede, dude."
The raised clip-on handlebars do feel quite sporty, yet the footpegs are positioned relatively comfortably, leading to a nice compromise between an aggressive sports stance and a relaxed street-riding posture.
Engine performance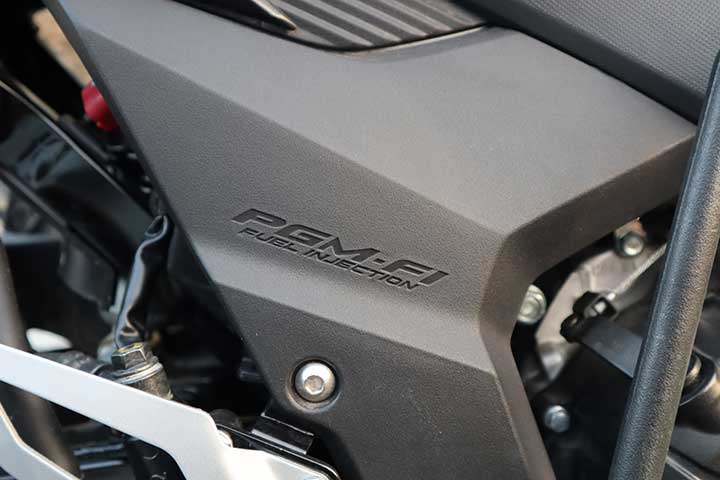 ADVERTISEMENT - CONTINUE READING BELOW ↓
The RS150R is advertised as having MotoGP DNA, and the engine is where this shows. The 149.76cc single-cylinder mill—the same unit powering the CBR150R and the CB150R—produces 15.4hp and 13.5Nm of torque, propelling the underbone to speeds suitable for a bike whose name ends with an R.
 The lightweight chassis combined with the punchy engine results in a zippy machine that'll leave a smile on your face whenever you get the chance to crank the throttle open on a clear road. This engine is mated to a six-speed constant mesh transmission that delivers some satisfyingly sporty shifting.
The RS150R is equipped with Honda's PGM-FI system, so the bike can make the most of its 4.3-liter fuel capacity.
Ride and handling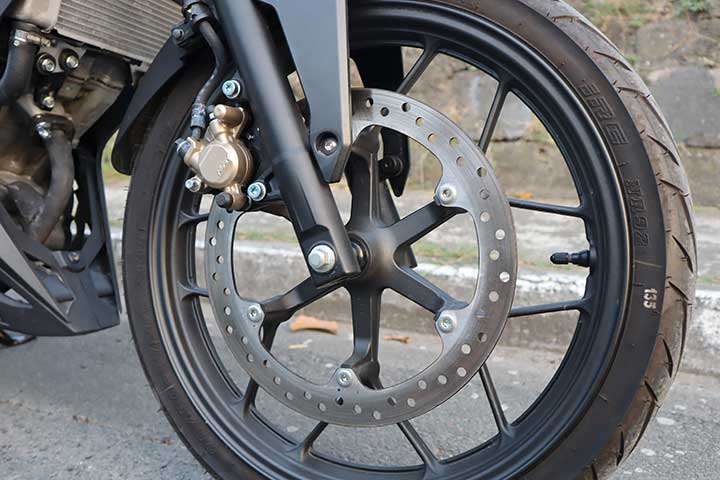 ADVERTISEMENT - CONTINUE READING BELOW ↓
Being a sports-oriented ride, the RS150R boasts agile handling characteristics. The bike is relatively lightweight at 111kg dry. This low weight and the 70/90 front, 80/90 rear tires result in a two-wheeler that's quick and easy to turn in.
Braking is handled by disc brakes measuring 296mm in front and 190mm in the rear. Stopping power and response are passable, but a lack of ABS might be concerning to some people, especially in emergency braking situations on less-than-ideal road surfaces.
Extra features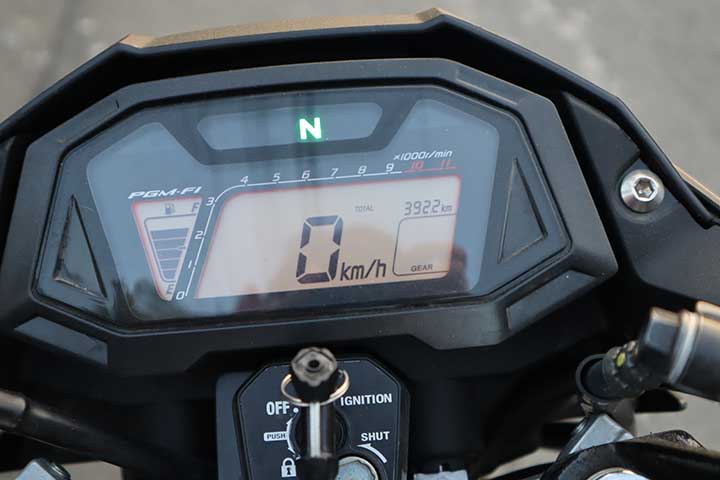 ADVERTISEMENT - CONTINUE READING BELOW ↓
This being a modern bike, the RS150R comes equipped with niceties such as a digital display with orange backlighting for uncompromised visibility in low-light conditions. The gear indicator is integrated into the digital display—no doubt useful for beginner riders who get befuddled by manual shifting—and the shutter key system serves as a low-tech yet dependable way to help keep your bike a little bit safer when left in a parking facility.
The verdict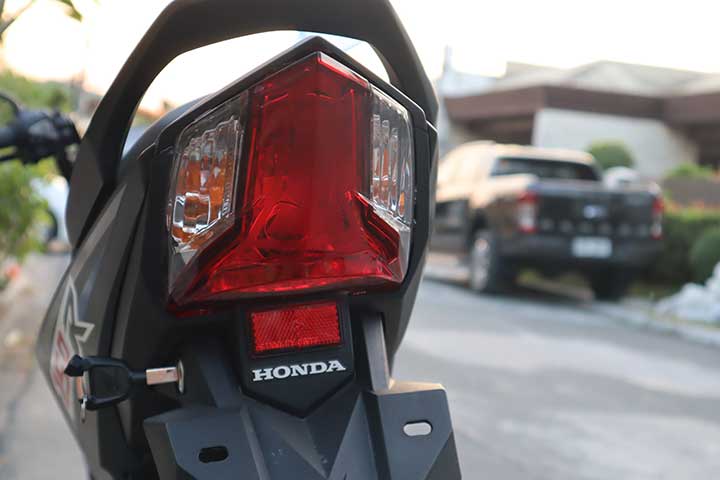 ADVERTISEMENT - CONTINUE READING BELOW ↓
For its price of P97,300, the Honda RS150R is quite a competent bike. But with little niggles like the next-to-nonexistent underseat storage space and the lack of a clock on the digital display, there's still room for improvement here. Knowing Honda, though, the necessary upgrades are sure to come.
Honda's liberal use of the letter 'R' when naming its sporty models isn't wasted on the RS150R. Spending a week with this agile city 'cycle was enough to convince me that underbone-type bikes can be fun, too, when executed properly.
SPECS: 2019 Honda RS150R
Price: P97,300
Engine: 149.76cc DOHC four-valve single-cylinder
Power: 15.4hp @ 9,000rpm
Torque: 13.5Nm @ 6,500rpm
Transmission:6-speed constant mesh
Score: 15/20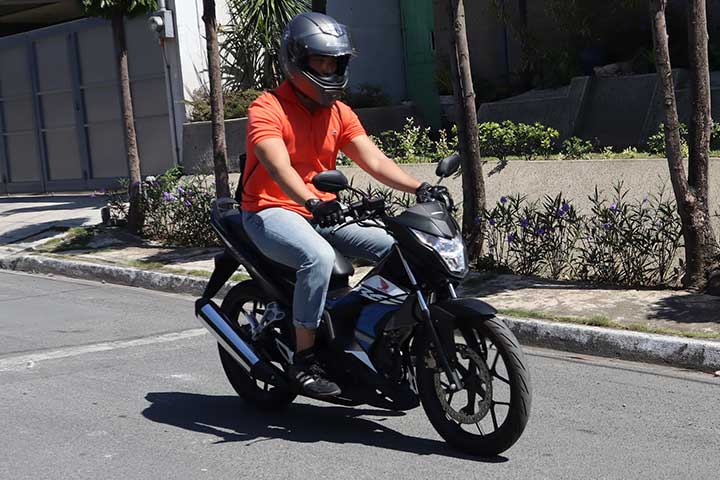 ADVERTISEMENT - CONTINUE READING BELOW ↓