Very few Filipinos these days haven't heard of the Yamaha's Mio line of scooters. Swarms of this scoot zip through the metro on a daily basis. Whether they're students heading to school, employees making their way to work, or motorcycle-taxi operators earning their keep, riders of different ages and backgrounds hold the Mio close to their hearts.
That said, there's one segment that feels closest to the Mio—the generation that Yamaha Motor Philippines (YMPH) has dubbed 'Miolennials.' There aren't any hard and fast rules on who can ride which motorcycle, of course, but it helps to match a particular bike's vibe and marketing campaign with a specific audience. And with this in mind, YMPH has introduced the Mio Gravis to the local market.
The Mio Gravis isn't all that different from the Mio models that came before it: It's a 125cc automatic scooter boasting the same quality and ease of use as its siblings. What's unique is its marketing campaign. With other Mios like the Aerox and the Soul i125, YMPH had picked young endorsers with energetic lifestyles. The Gravis, meanwhile, doesn't alienate older generations, being endorsed by a Miolennial-at-heart: journalist and media personality Atom Araullo, who is now in his late thirties.
Continue reading below ↓
Recommended Videos
Can the Mio Gravis cope with being the daily companion of riders with a fast-paced, go-anywhere, do-anything lifestyle? Can it fulfill its big goal of reaching a wide range of riders and meeting all their needs? Read on to find out:
Styling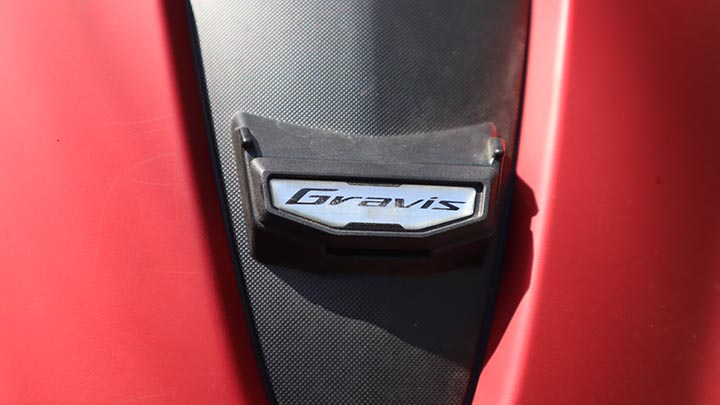 As with all of YMPH's recent releases, the Mio Gravis is pretty. It looks undeniably premium in the matte red color that my review unit came in. The front-end styling is just aggressive enough without losing touch of the model's sensible, practical character, and the rest of the body features the right blend of form and function.
Nothing on the Gravis is unnecessary, nor is anything lacking on it. Like Yamaha's more premium NMax scooter, it features headlamp- and taillight-integrated front and rear turn signals, which not only make the overall design sleeker, but also reduces the bits that can get caught on stuff.
The saddle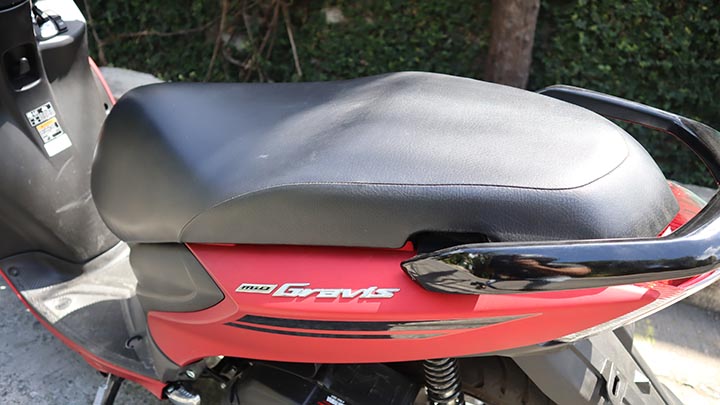 The Gravis doesn't reinvent the wheel when it comes to scooter ergonomics. If you've ridden the other 125cc Mios, its saddle will feel very familiar, albeit a bit taller. Mounted 30.7 inches off the ground, the Gravis's seat is around an inch taller than those of other Mios, though that shouldn't pose a problem for riders of average Filipino height. It's comfortable and nicely padded, and the material is taut and nice to touch.
Meanwhile, the riding position is exactly what you'd expect from a light scooter—neutral and stress-free. I had no real issues with the saddle, the stance, and the layout controls. I found everything comfortable and convenient, from the step-board size to the turn-signal operation.
One nit I had, though, was the presence of a blank panel on the right handlebar. I assume it's where the Idling Stop System (ISS) switch could be, like on the Mio i125 S. While this may hint at a possible ISS-equipped Gravis in the future, having a blank switch on a bike feels like the customer didn't get the best trim level for their motorcycle, even if there's only one trim level for the Mio Gravis here.
Engine performance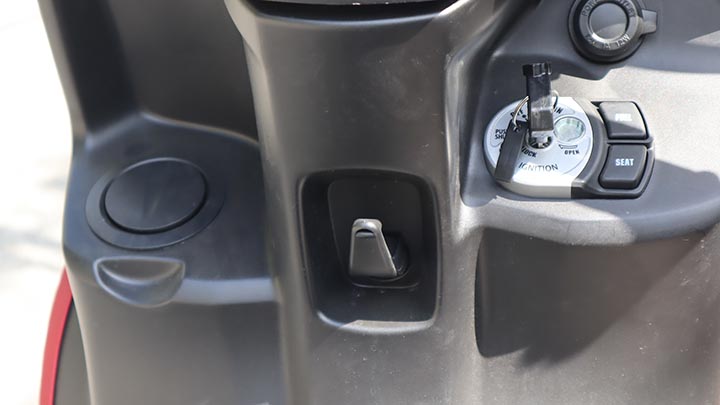 The Mio Gravis may also pack a 125cc engine, but its powerplant is not shared with other 125cc offerings in the Mio line—this mill is totally new. It's more efficient than the other 125cc unit, thanks to Yamaha's Blue Core and DiASil technology.
The Gravis has just enough juice for some around-town zippiness, with 9.38hp and 9.5Nm of torque. It's by no means a fast bike, nor does it need to be. The engine output is more than enough to get you from point A to B, and there's sufficient pep to make you smile on the way. While it does need a bit of convincing to ascend steep inclines, the little single-cylinder can take on anything you can reasonably throw at it. We'll do a proper run to measure fuel consumption the next chance we get, as I wasn't able to get enough running on the bike this time around.
Ride and handling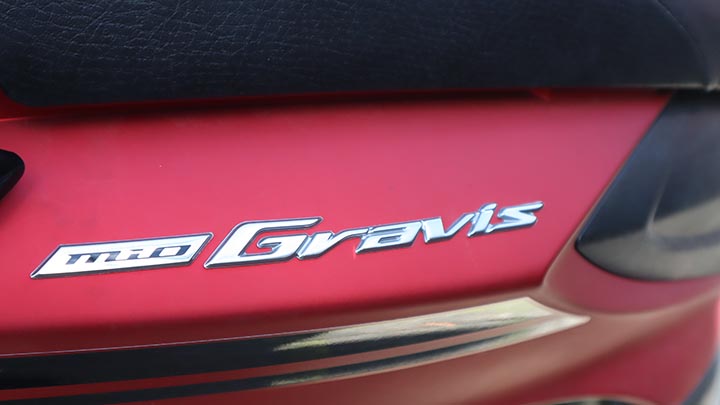 Another thing the Gravis has going for it is the size of its tires. Its 12-inch wheels come fitted with relatively wide rubber—100/90 up front, and 110/90 in the back. These wide tubeless tires do well to stabilize the scooter's handling: Whether through turns or on straights, the Gravis feels planted and secure. The suspension isn't bad, either, but it could stand to provide more damping considering our road conditions.
As with most scooters, the riding experience afforded by the Gravis is chill and hassle-free, and filtering through traffic is as easy as can be. Braking is surprisingly decent, as the single-disc front brake and the rear drum brake work in tandem to bring the light scooter to a stop with no fuss.
Extra features
For a scooter built to fulfill modern riders' needs, the Gravis is amply equipped. The digital dash boasts a bar-type eco indicator that fills up the more 'economically' you ride. Below the gauge cluster is the front-mounted fuel filler cap, which makes for much more convenient gas stops. Next to that is the charging outlet, which requires a 12V car-type USB adapter to use with your devices.
Under the seat is a spacious 25-liter storage box capable of packing a full-face helmet, though larger, chunkier helmets won't be able to fit properly, as I've experienced with my modular lid. The Gravis also comes with Yamaha's usual accouterments, like the multifunction key shutter, a front cargo hook, and the smart motor-generator. Something I would've appreciated is a front cargo pocket for storing my phone while charging.
Verdict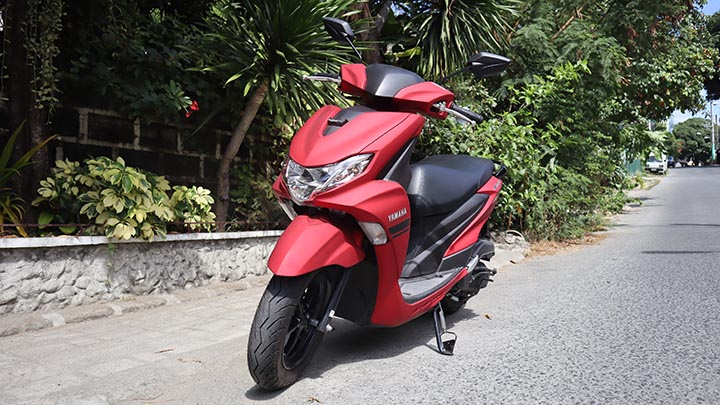 This Yamaha's tagline is "Be whoever you want to be." To fulfill that goal, it takes on the role of a supportive friend—someone who's ready when you are, and capable of keeping pace with you no matter what your move for the day is. While not totally perfect, the Mio Gravis presents itself as an ideal daily scooter that few automatics in the country can stand toe to toe with.
In the few days I had with the Gravis, it made a little place for itself in my heart, and reminded me that even with the existence of high-adrenaline big bikes, little scooters and their practicality can still deliver a fun experience.
SPECS: Yamaha Mio Gravis
Price: P85,900
Engine: 125cc SOHC single-cylinder
Power: 9.38hp @ 8,000rpm
Torque: 9.5Nm @ 5,500rpm
Final drive: V-belt automatic
Seat height: 30.7 inches
Score: 18/20