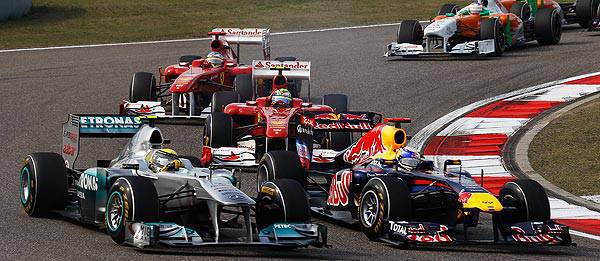 McLaren's Lewis Hamilton won the Chinese Grand Prix in a nail-biting finish by taking the lead from the 52nd lap and holding on to it until the end of the 56th and final lap, relegating pole-sitter and the winner of the two previous races, Red Bull's Sebastian Vettel, to second place.
Hamilton's race was nearly over before it even started when his McLaren MP4-26 race car refused to start and a fuel leak was discovered, forcing the team to fix the car and finish putting it back together on the grid just in time for the warm-up lap.
"I am still not sure exactly what went on but they had to take a lot of the bodywork off and I knew there was six minutes to go. Then there was two minutes to go but fortunately everything just came together very quickly," Hamilton said at the post-race press conference. Hamilton's victory makes him the first Formula 1 driver to win the Chinese Grand Prix more than once.
Red Bull's Mark Webber also had an inspired race by finishing in third place after a disastrous Saturday qualifying had him start the race 18th on the grid.
McLaren's Jenson Button made a minor mistake when he made his first pit stop and parked his car in Vettel's spot just as the German was also making his own stop. Button finished in fourth place, exactly ten seconds behind Hamilton.
Continue reading below ↓
Recommended Videos
The race was Mercedes GP's most promising this season as both Nico Rosberg and Michael Schumacher finished in the points with the former finishing in fifth place while the latter took eighth place. Rosberg could have even finished higher in the standings if he hadn't been advised by the team to take it slow as the car's telemetry was showing it to consume more fuel than the team anticipated.
The opposite could be said for Ferrari as it has been the worst for the team thus far with Felipe Massa and Fernando Alonso closing the race in sixth and seventh place, respectively.
Rounding out the points finishers are Renault's Vitaly Petrov in ninth place and Sauber's Kamui Kobayashi coming in at tenth place.
Photo from Red Bull Racing