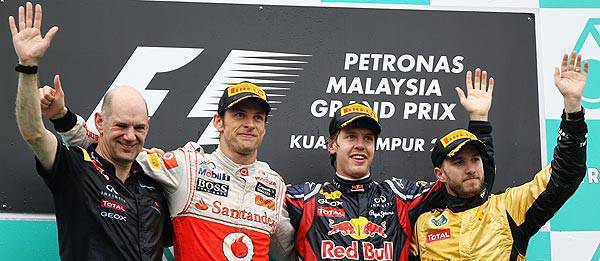 Current Formula 1 world champion Sebastian Vettel is on a roll by taking the checkered flag at yesterday's Malaysian Grand Prix just two weeks after the German driver stood on top of the podium at the 2011 Australian Grand Prix.
Though Red Bull had some problems with its Kinetic Energy Recovery System (KERS) during the race, this didn't faze the team from blitzing its competition as Vettel was able to hold back a spirited drive by Renault's Nick Heidfeld at the start of the race and a hard charging Jenson Button of McLaren in the race's closing lap. Button and Heidfeld finished the race in second and third place, respectively.
"I'm very pleased with today's result," said Vettel at the post-race press conference. "I love what I do and don't think I could be happier at this stage. It's been close here, so we need to keep cool and keep pushing, but the guys know this is the way forward, so I'm not worried. But for today we will enjoy it and be very proud."
A battle between erstwhile teammates and two former world champions, McLaren's Lewis Hamilton and Ferrari's Fernando Alonso, during the race saw both drivers being handed 20-second time penalties. Hamilton, however, got the short end of the stick as the penalty bumped him down to eighth place at the end of the race and promoted Sauber's Kamui Kobayashi to seventh while Alonso retained his sixth place finish.
Continue reading below ↓
Recommended Videos
Heidfeld's teammate and Australian Grand Prix third-place finisher Vitaly Petrov missed finishing in the points when he lost control of his R31 with just three laps to go, sending the car airborne on all four wheels before the hard landing snapped the steering column to end his race.
Rounding out the points finishers are Red Bull's Mark Webber in fourth, Ferrari's Felipe Massa in fifth, Mercedes GP's Michael Schumacher in ninth and Force India's Paul di Resta in tenth.