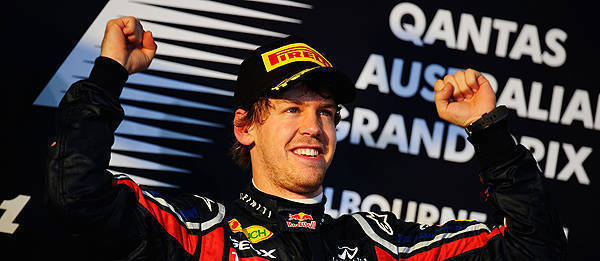 Last year's Formula 1 world champion Sebastian Vettel started his campaign to retain the title for the 2011 season on an authoritative note by finishing on the top step of the podium after starting the race in pole position.
Such was Vettel--and Red Bull's--dominance in the race that, even with the Kinetic Energy Recovery System (KERS) turned off for both the champion's and teammate Mark Webber's car, the two drivers finished in the top five of the standings.
Despite the success, Vettel downplayed his performance in the first race of the season.
"I'm very pleased, it was a very good weekend and I had a very nice car to sit in this afternoon. It was a good race--towards the end things calmed down a bit. Lewis didn't push as hard, so we tried to control the last part of the race," said Vettel. "I don't think it was easy today."
The McLaren team, which had claimed its cars were off the pace before the 2011 races officially started, has evidently been sandbagging its off-season performance as its drivers--former world champions Lewis Hamilton and Jenson Button--took second and sixth place, respectively.
Another world champion, Ferrari's Fernando Alonso, missed the last step of the podium as he finished 1.212 seconds behind an ecstatic Vitaly Petrov of Lotus Renault GP.
Continue reading below ↓
Recommended Videos
"It was a great feeling to be standing on the podium in front of my team, especially knowing what we have all been through over the winter with some very difficult moments," Petrov said. "I feel really good and I know we can have a great season."
It was Petrov's first podium finish in his 20th Grand Prix race.
Photo from Red Bull Racing