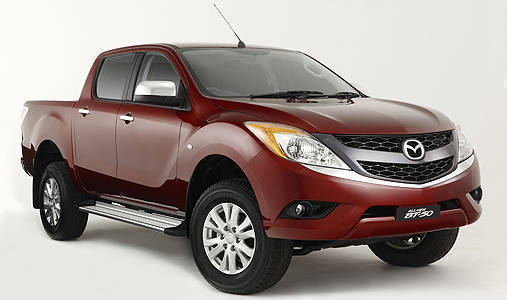 Mazda has launched the all-new BT-50 pickup truck, which shares the platform of the freshly unveiled Ford Ranger, at the Australian International Motor Show.
The all-new BT-50 steps away from the conservative design of its previous-generation by tapping on the Mazda brand's "Active lifestyle vehicle" theme. As such, the all-new pickup truck offers all the functionalities required for business use combined with passenger car-like comfort for family trips, making it the perfect vehicle for all kinds of outdoor leisure activities.
Constructed around a design concept Mazda called "Sophisticated Beast," here's an excerpt of what Ryo Yanagisawa, the BT-50's chief designer, has to say about the pickup truck's fierce looks:
"We drew a lot of inspiration from various 'movements' in the world around us. For example, we had a photograph of a lion. He looked like a magnificent predator with his muscles all bunching up as though he was about to pounce on his prey. His sinews were stretched taut ready to strike, and his mane framed a sharp, masculine countenance that seemed to say, 'I am the proud king of the beasts!' In profile, that lion appeared to be both intelligent and powerful. I really wanted the design of the truck to project that kind of image. This kind of inspiration was the basis of the emotional design that we worked so hard to achieve with the all-new BT-50."
Continue reading below ↓
Recommended Videos
Inside, the all-new BT-50's cockpit wraps around the driver to create a sporting environment. Other interior details are:

- the center of the instrument panel smoothly flows to the raised center console, a first in a pickup truck;
- the dashboard's asymmetric design creates optimal space on each side;
- a metallic bezel wraps around the two main gauges with a center strip improving readability and enhancing the sporty, driver-oriented theme of the cabin; and
- the climate control panel, which has independent driver- and passenger-side temperature controls, and the audio system panel form an ergonomic and aesthetically pleasing interface.
"With modern and refined styling both inside and out, the All-New Mazda BT-50 will raise the bar in the utility segment and for the first time provide a realistic alternative to the family wagon and 4x4 SUV," said Mazda in a statement.
Mazda did not reveal what drivetrain options the all-new BT-50 will receive.
Photos from Mazda
[gallery]607[gallery]