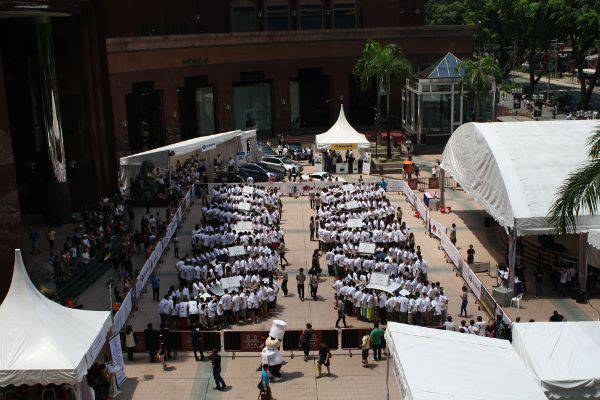 The MediaCorp Subaru Challenge: The Asian Face-Off is more exciting this year. Now in its 11th year, the endurance contest offers a new grand prize for the overall winner and introduces new variations to the challenge.
Bringing together 310 challengers from Singapore and 90 regional contestants from Malaysia, Indonesia, Hong Kong, Thailand, Taiwan, Vietnam, Cambodia, China and the Philippines, the Subaru Challenge kicked off at 1pm last Saturday under Singapore's scorching heat with a 31°C temperature and 70-percent humidity. The Subaru Challenge is a yearly joint initiative by Motor Image Enterprises and MediaCorp at Ngee Ann City's Civic Plaza.
"We have stepped into the new decade of the challenge with many firsts that will change the game play," said Dahlia Z, vice president at MediaCorp. "I am confident that this will bring a whole new level of excitement for both contestants and spectators."
For the first time in the challenge's history, the grand prize for the contest is not the Impreza. The grand prize would depend on which country the contestant is from. But should a Singaporean wins, he or she gets to drive home the all-new Subaru XV, the latest crossover model from the Japanese carmaker.
However, if a Filipino is the last man standing with his palm on his designated spot on the car, he receives an Impreza 2.0i worth P1,158,000 as grand prize.
Continue reading below ↓
Recommended Videos
If the winner is from Cambodia, he/she receives a Forester 2.5XT. If the winner is from China or Hong Kong, he/she gets an XV 2.0i Premium. If the winner is from Malaysia, he/she gets a Forester 2.0X. If the winner is from Indonesia or Thailand, he/she gets an XV 2.0i. If the winner is from Taiwan, he/she receives an Impreza WRX STI. And if the winner is from Vietnam, he/she gets an XV 2.0i-S.
In addition to the new prize that awaits the winner, this year's challenge also introduces new twists. Contestants now have additional 11 seconds added to their 7pm break (contestants are allowed to leave their spot for five minutes every six hours: 1am, 7am, 1pm and 7pm). The last 11 contestants will be awarded a Wild Card, giving them a chance to enjoy a can of Coke, a massage, a burger or an isotonic drink. These 11 contestants will get a two-minute break to enjoy their Wild Card, which will be awarded to them after the 12th contestant drops out.
Regional contestants, including all 10 Filipino contestants, are also vying for three additional titles and cash prizes. The Country Winner award will go to the last representative of each participating regional country and will receive a cash prize of SG$1,000 (about P33,800). Last year's Philippine Country Winner, Alex Neblasca, is competing again at the regional finals this year. The Asian Winner award will go to the last regional contestant and receive SG$5,000 (about P169,000).
The game play of the Subaru Challenge is simple: The contestants should aim to outlast everyone else. Each contestant should place his/her right hand firmly on a designated spot on a Subaru Impreza car. The spot that each contestant should occupy has been determined by drawing lots. All 400 contestants have to endure weather conditions, sleep deprivation, hunger and thirst. They are given a five-minute break every six hours, except for the 7pm break, which will have an additional 11 seconds.
A qualified paramedic team and ambulance will be on standby throughout the contest to address any emergency. Contestants also get to have regular health checks to make sure that they can continue with the challenge.
Photos by Tracy Carpena
[gallery]1290[gallery]