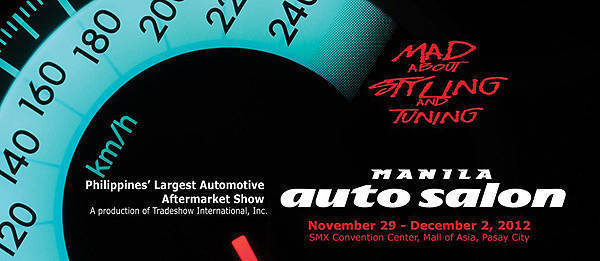 From November 29 to December 2, the Philippine automotive aftermarket industry will descend upon the SM Mall of Asia's SMX Convention Center as the sixth Manila Auto Salon opens its doors to visitors for four days.
"This marks a different year for the Manila Auto Salon as we expect to shore up a more intense competition," said the event organizer's president, Tradeshow International's Sophie de los Santos. "We have been receiving word of the kinds of cars being set up for the show, and the excitement is building up tremendously. This is why the Manila Auto Salon never ceases to wow the crowd."
This year, besides showcasing the country's major aftermarket shops like 199 Off Road House, Autoline Motorsports, A-Toy Body Kits, Concept One, FM Garage, JWorks Unlimited, Jeff's Off-Road Shop, Speedlab, and Starbright Body Kits, the Manila Auto Salon will serve as the venue for the launch of a documentary DVD which chronicles Philippine motorsports.
Entitled Racing With Legends, the documentary "shows the great racing events that transpired during the Golden Age of Philippine motorsports and tells about the pioneering spirits of the race car drivers and organizers of that special era."
"We're proudly hosting the promotional launch of the Racing With Legends documentary DVD at the Manila Auto Salon where pre-ordering of the film will happen," shared de los Santos. "The connection of this special movie to the fans who visit the Manila Auto Salon is electric. Even if it happened in an era when perhaps some of the competitors and participants in the show had not even been born yet, it gives a glimpse into why we Filipinos are so enamored with our cars."
Continue reading below ↓
Recommended Videos
To complement the DVD's launch at the four-day event, an exhibit will feature the country's racing legends and highlight their exploits, including two-time Macau Grand Prix champion Dodjie Laurel, the late Jose "Pocholo" Ramirez, Butch Viola, Chito Monserrat, and Joey Bundalian among many others. Toyota racing champion Dante Silverio and Mercedes-Benz rally driver Paquito "Paco" Ventura are also expected to grace the event to meet and greet motorsports fans.
Lastly, for the first time ever, the Manila Auto Salon will coincide with another Tradeshow International-organized event: the 20th Defense and Sporting Arms Show, which will also be held at the SM Mall of Asia SMX Convention Center.
So, if you've got a passion for cars and you have a keen interest in motor racing, you know where you need to be at the end of the month.