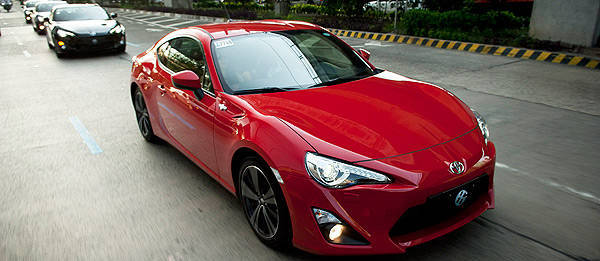 A rumor going around the Philippine car market lately is that some Toyota dealerships are now illicitly selling the 86 sports coupe, with some sales representatives supposedly pushing prospective customers to purchase additional accessories for the car in exchange for a guaranteed spot on the car's lengthy waiting list.
It's also rumored that the limited allocation of the 86 for the Philippines is just a "myth" since buyers noted that some dealers have on display a unit on the showroom floor that isn't for sale.
We got in touch with some executives from Toyota Motor Philippines (TMP), and this is what we gathered: On the issue that some dealers will only sell customers an 86 if the latter place an order for accessories, TMP said that either the customer misunderstood or the sales representative misrepresented the products being offered.
"There have been cases where a customer who placed an order for the 86 along with its matching accessories would back out on the accessories ordered once it arrives at the dealers," said one source. "Left with the accessories, it's understandable that some of our dealers would offer them to another buyer of the 86. It may have happened a few times where they'd push the accessories to a buyer of the 86, but we'd like to assure our customers that forcing them to buy the accessories just to be able to buy the 86 is not a standard business practice we condone."
Continue reading below ↓
Recommended Videos
One measure against this, according to our source, is that TMP utilizes "mystery shoppers" from within the company who often go to different Toyota dealerships to check on their sales practices. The source also noted that TMP meets with all of its dealers once a month to address issues that the Japanese carmaker has heard through its "mystery shoppers" and from various other sources.
As for the rumor that TMP is simply inflating the demand for the 86 as evidenced by showroom units that have been on display for months and have not been sold, another source explained that these units--which are nine in total--are the very same ones that took part in the drifting exhibition and test drives at the 86's local launch in July.
"Since these units were subjected to different levels of abuse, we didn't put these units on sale immediately," said our source. "It was only after a few months that we were able to fix the cars to brand-new condition before we could put them out on sale."
And there you have it. Does anyone here think TMP would risk its reputation--which it has taken more than two decades to earn--just to sell a handful of sports cars? Have your say in the comments box below.