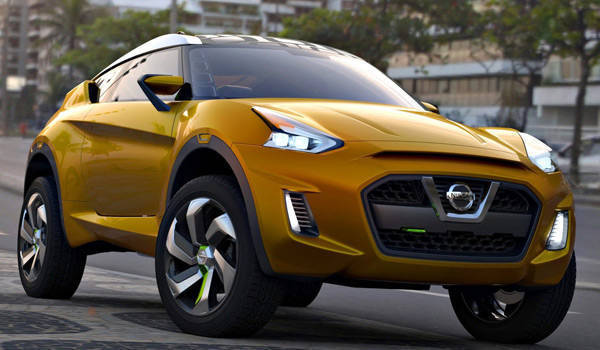 This is the Extrem, the latest concept vehicle from the drawing boards of Nissan and now on display at the 27th Sao Paulo International Motor Show in Brazil. It was penned by Nissan Design America in San Diego, California, in collaboration with Brazilian designers, and was subsequently produced in Brazil. The Japanese carmaker says that "by blending versatility and toughness with the agility of a compact 2+2, the Extrem is a new genre of urban compact sports car."
"Brazil is a country of great natural beauty and it has a passionate, rich culture," said Nissan chief creative officer Shiro Nakamura. "But this is not always reflected in the cars on its streets, especially the more affordable locally produced vehicles, which tend to be conservative in design, color and specification. The Extrem, with a dynamic, high-character design, is far from conservative. It was created to appeal to the country's growing band of city-based young professionals who are passionate about design and want to make a personal statement."
The Extrem measures 1,530mm tall, 3,850mm long and 1,765mm wide, with a wheelbase of 2,450mm.
Outside, the concept vehicle boasts headlamps and taillamps that feature Nissan's signature graphics and advanced LED technology. The rear lights also have high-tech layered fins. Underneath, there's a prominent aluminum skid plate that houses the centrally mounted exhaust.
Continue reading below ↓
Recommended Videos
The exclusive Solar Cortex body color, a deep metallic orange with radiant highlights, pays homage to Brazilian nature. The roof pattern, a mix of gloss and matte textures, is inspired by iconic Brazilian graphics. Six-spoke 19-inch alloy wheels complete the exterior styling.
Inside, the Extrem has a dedicated luggage space in the rear, featuring a clever two-tier system that provides secure storage.
In its concept-car stage, the Extrem is powered by Nissan's advanced direct injection and turbocharged 1.6-liter gasoline engine, which according to the carmaker shares its technology concept with the powertrain of the innovative Nissan DeltaWing Le Mans race car. The Extrem also has a choice of front- or four-wheel drive with torque vectoring for enhanced handling capabilities.
So now our question is: Do you dig the design of the Nissan Extrem? Hit the comments box.