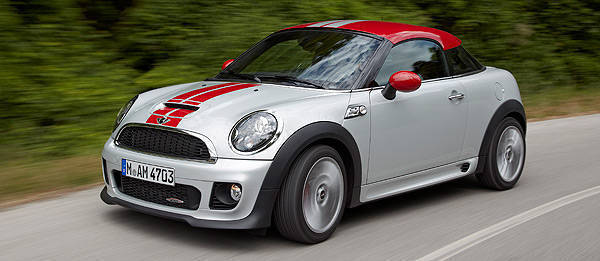 Just two weeks after Mini gave the public a preview of its Coupé, the British marque has officially revealed what is essentially the first two-seater in the brand's current model range.
"The Mini Coupé represents the faithful transposition of the brand's sporting DNA into a cutting-edge vehicle concept with a new interpretation of the super-compact sports car class; unrivalled handling agility and the best performance figures in the model portfolio," Mini said in a statement.
The Mini Coupé is the first model in the brand's line-up to have a "three-box" design, thanks to its stepped read end that is styled like that of a classic gran turismo. Its distinctive roof's aerodynamic properties have been optimized with an integrated roof spoiler. The Mini Coupé is also the brand's first model to be equipped with a rear spoiler, which automatically extends at speeds of over 50kph.
As mentioned two weeks ago, the Mini Coupé is available in four variants :

* the Mini Cooper SD Coupé with 143 hp;
* the Mini Cooper Coupé with 122 hp
* the Mini Cooper S Coupé with 184 hp; and
* the Mini John Cooper Works Coupé with 211 hp.
Though a six-speed manual gearbox is fitted as standard on all Mini Coupé models, a six-speed automatic transmission is available as an option for the Mini Cooper S Coupé, the Mini Cooper Coupé and the Mini Cooper SD Coupé.
If the photos aren't enough for you, check out the video below of the Mini Coupé being driven in exotic locations like Iceland, Brazil and Hong Kong.
[gallery]961[gallery]