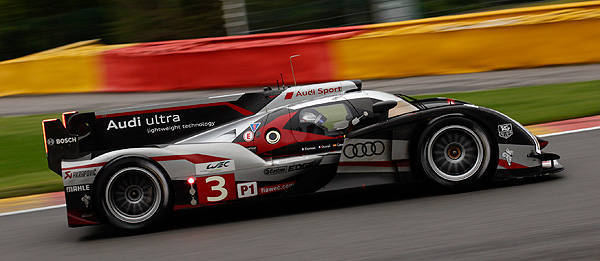 Audi is sending a warning out to its competitors at the legendary 24 Hours of Le Mans endurance race in June as its R18 cars took the top four spots at the 6 Hours of Spa-Francorchamps, the second round of the FIA World Endurance Championship.
Though the number '1' Audi R18 e-Tron Quattro, the first diesel hybrid race car in history, dominated the race's early stages, the decision to change the tires of the conventionally powered number '3' R18 Ultra to slick tires while the others received intermediates allowed the latter to eventually take the lead on the 63rd lap. Driven by Romain Dumas, Loic Duval and Marc Gene, the car then held on to the lead until it crossed the finish line ahead of the number '1' Audi R18 e-Tron Quattro driven by Marcel Fassler, Andre Lotterer and Benoit Treluyer.
Completing Audi's sweep of the top four spots of the race were the second R18 Ultra driven by Marco Bonanomi and Oliver Jarvis for third place, while Dindo Capello, Tom Kristensen and Allan McNish in the second R18 e-Tron Quattro had to settle for fourth.
According to Ralf Juttner, technical director for the Audi Sport Team Joest, Audi's decision to opt for two concepts proved to be right and that, though the R18 e-Tron Quattro is a strong car, the R18 Ultra has certain advantages.
Continue reading below ↓
Recommended Videos
"With the 1-2-3-4 victory at Spa, four reliably working race cars, a solid driver lineup and an efficiently operating Audi Sport Team Joest, Audi managed a successful dress rehearsal for the 24 Hours of Le Mans," the German carmaker said in a statement.