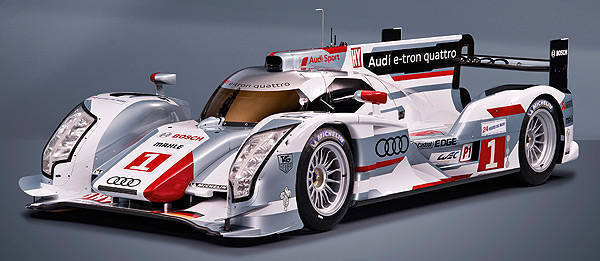 Audi has finally revealed its contender for the 2012 24 Hours of Le Mans: the diesel hybrid Audi R18 e-tron quattro.
As the world's first Le Mans Prototype 1 class car to combine a highly-efficient TDI diesel engine with a hybrid system, the R18 e-tron quattro is Audi's way of uniting two technologies to create a new type of drive, which is also already being tested for future use in production cars. According to Audi, this next-generation four-wheel drive combines the advantages of its proven quattro drive with the potential of electro-mobility. This means one axle of the R18 e-tron quattro is powered conventionally while the second one is powered by electric motors.
"Audi has always consciously selected championships and categories in racing that have a close relationship to production and therefore have technical relevance for the Audi customers," said Audi Motorsport boss Wolfgang Ullrich. "Quattro, TFSI and TDI are three excellent examples of how motorsport has stimulated production development. A similar tendency is apparent with the e-tron quattro: we test a completely new technology on the race track before it's introduced to the Audi production line."
The R18 e-tron quattro also utilizes kinetic energy recovered from the front axle as the vehicle brakes. The energy is stored into a flywheel accumulator before it is retrieved when the vehicle goes above 120kph. The V6 TDI powerplant, meanwhile, produces 503hp, which is transmitted to the rear wheels. Both electric and mechanical systems complement each other to create Audi's new drive principle e-tron quattro.
Continue reading below ↓
Recommended Videos
"The TDI engine invented by Audi is still the most efficient drive in the world," Ullrich said. "We are convinced that the TDI has even more potential. This is why Audi not only supports the hybrid in motorsport as it does in production, but in parallel also the further development of the conventional drive."