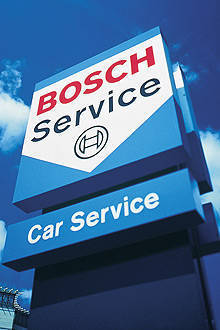 Bosch Philippines' automotive parts and services business echoed the sales growth of the Philippine car industry with its expanded portfolio in 2010.
The company closed 2010 with a 27-percent growth driven by products designed "to better serve a greater number of motorists, including those with diesel and commercial vehicles, which account for a third of the local market."
Bosch-branded service stations also reached over 60 nationwide. Bosch Service stations are a network of independent workshops across the country that carry the brand's latest products and have passed the stringent quality standards of the German company to be allowed to carry its name. Bosch Philippines plans to establish a Bosch Service workshop in every key city in the Philippines.
Bosch also attributed its local growth to higher demand for electronic vehicle diagnostics, especially after Typhoon Ondoy damaged many vehicles in September 2009.
"When car owners started pulling their cars out of the casas for it to be serviced by independent shops and service stations, that's when the owners of these shops and service stations knew that it's necessary to have the proper diagnostic equipment since most cars today have computer boxes," said Joseph Hong, managing director of Bosch Philippines.
Could Bosch's 27-percent growth be artificial as it was driven only by the damage left by Ondoy? Hong admitted he initially assumed the same thing.
Continue reading below ↓
Recommended Videos
"But nearly a year after Ondoy, we were still registering almost the same number of sales as shortly after Ondoy when normally at that time you would expect sales to taper off since most of the damaged cars have already been serviced. Yes, Ondoy may have initially been a factor but our recent sales figure says otherwise," Hong added.
Globally, the Bosch Group generated sales of €47.3 billion, 24 percent more than the sales in 2009. This was also the highest level of annual sales the company posted in its 125-year history. In Asia Pacific, Bosch sales registered at €11 billion with a 43-percent growth. This represents 23 percent of the Bosch Group's sales, making it the second most important region for sales after Europe. In the Philippines, its automotive aftermarket and power tools business divisions saw Bosch Philippines grow by 23 percent by generating sales of €16 million last year.