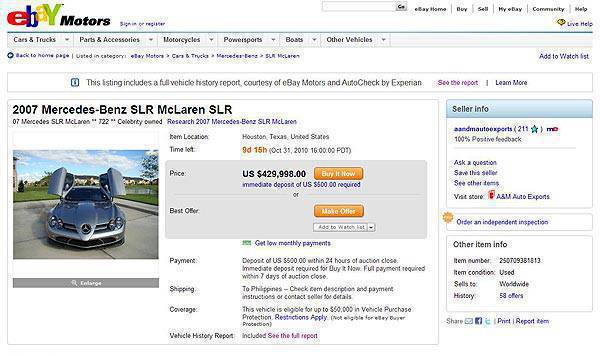 Some people collect rare cars while some collect Michael Jordan merchandise. For those who like to collect both, this is a dream come true: a Mercedes-Benz SLR McLaren owned by the NBA legend is up for sale on eBay.
For $429,998 (over P18 million), the lucky buyer gets a mint condition 2007 Mercedes-Benz SLR McLaren 722 with less than 2,000 kilometers on the odometer and whose title is signed by Michael Jordan. The car reportedly still has its Mercedes-Benz factory warranty that's valid until August 2011 or until the car goes over 50,000 kilometers. The package also includes the car's papers, books, keys, trickle charger, a K40 radar, and its SLR car cover.
The SLR McLaren 722 is a faster, more powerful variant of the "standard" SLR McLaren. Its 5.4-liter supercharged V8 was tuned to produce 641hp and 820Nm of torque, an advantage of 24hp and 40Nm of torque over the regular SLR McLaren. Besides the tweaked engine, the SLR McLaren 722 also received larger and lighter 19-inch alloy wheels, red "722" badge as tribute to Stirling Moss' Mille Miglia-winning Mercedes-Benz in 1955, modified suspension setup, large-diameter brakes, a revised front airdam, a rear diffuser, and different taillights and headlamps.
Continue reading below ↓
Recommended Videos
An interested buyer only has nine days left to purchase the vehicle with the eBay listing set to expire on October 31.
Photo from eBay