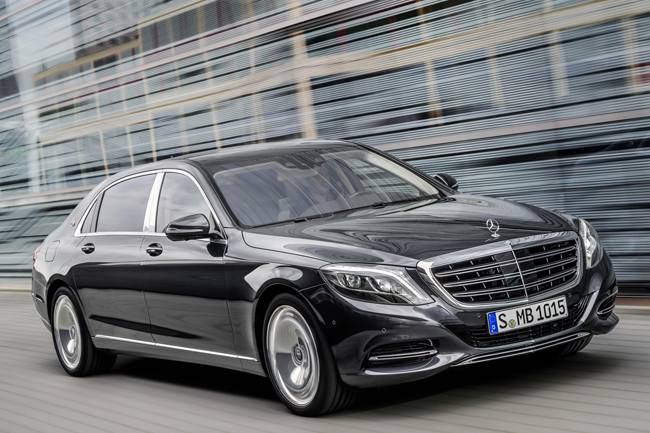 The Mercedes-Benz S-Class is still the best statement that you've made it. When you arrive in an S, the world knows you're someone important. Now, there's a better statement to show that you've arrived.
Meet the Mercedes-Maybach S-Class. This was teased last week as part of the revival of the Maybach name, and this time we have a real glimpse of the opulence of Mercedes's new sub-brand. Think of it as a division of Mercedes-Benz: If AMG is the performance department, Maybach is the ultra-luxury side.
There are two offerings announced at the Auto Guangzhou and the Los Angeles Auto Show: the Mercedes-Maybach S600 with a 530hp V12, and the S500 with a 455hp V8. The MM S-Class is longer than the long-wheelbase S by 20cm, and offers individual executive rear seats. These plush perches can lean back at an angle of 43.5 degrees to relax the occupants when needed. Owners who want peace and quiet will be glad to know this car is dubbed as the world's quietest production sedan.
Little design touches on the outside remind the masses that you're not in a "mere" S-Class, but in a Mercedes-Maybach. There is the Maybach logo--a double M inside an arched triangle--that adorns the C-pillars, and there's the Maybach name on the trunk lid.
Continue reading below ↓
Recommended Videos
Of course, the cabin is still where Benz has focused the most. The Air Balance perfume system is here, but it comes with an Agarwood fragrance that is exclusive to Maybach. There are also optional Robbe & Berking champagne flutes, a panoramic sliding sunroof with Magic Sky Control, a Burmester audio system, and two tables for getting some work done.
With the brand cachet of Mercedes-Benz here in our country, a more luxurious and exclusive S-Class will definitely attract eager customers. So we think it's only a matter of time before we see these opulent Mercedes-Maybach sedans rolling around Bonifacio Global City.