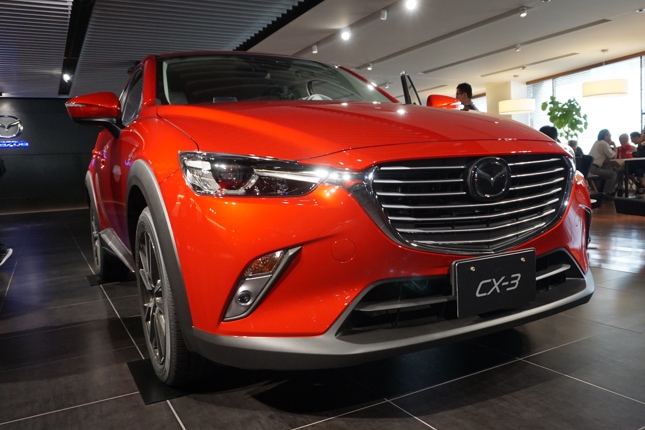 When we last heard of the Mazda CX-3 subcompact crossover in relation to our market, its fate was being evaluated by distributor Berjaya Auto Philippines. But here at Mazda's headquarters in Hiroshima, Japan, the feedback from Berjaya executives is that the CX-3's status has progressed from a matter of if to a matter of when.
So yes, it's coming to the Philippines.
We certainly look forward to seeing this Ford EcoSport competitor arrive in our market. Yesterday, we were able to spend a little time with the CX-3 between activities. Not surprisingly, there are a lot of elements from its 3 and 6 siblings incorporated into its diminutive frame. Also, the cabin is a close facsimile of the new Mazda 2.
It would be easy to simply say the CX-3 was a smaller CX-5, but the former's character is a little different. It sits lower and has an edgier stance, not to mention it has a noticeably snugger interior. The CX-3 is undoubtedly targeted at a younger demographic than the CX-5. It's easier to think of this crossover as a taller 2 instead.
Details are still sketchy at this stage. According to our sources, the Philippine-market CX-3 will either have a 2.0-liter four-cylinder gasoline engine or a 1.5-liter four-cylinder diesel. But there's a big 'if' attached to the oil-burning powerplant. The diesel's arrival will greatly depend on whether our fuels are Euro IV-compliant by next year, but that's another topic altogether.
Continue reading below ↓
Recommended Videos
In the meantime, we hope you like the snapshots we took of the CX-3. If this drives as well as it looks, Mazda has another winner in its lineup.
Photos by Dinzo Tabamo