Mercedes-Benz proudly states that this—the new GLA—is the eighth different model to join the company's compact-car lineup. Eight different compact cars. The first example of the jacked-up A-Class breed was a resounding success, though, so it's no surprise to see the new version sporting a remarkably similar exterior.
There's a new face, of course, to bring the GLA into line with the rest of the brand, and the top-of-the-range AMG GLA 35 gets the now-universal AMG grille to distinguish itself. There's certainly a bit more of an SUV stance than in the previous generation, especially with that chunky plastic cladding, but there's also a more swooping coupe-like roofline.
Continue reading below ↓
Recommended Videos
Merc does say the GLA will do the off-road thing, too—any unit spec'd with four-wheel drive will also feature an 'Off-Road Engineering Package' as standard. Don't be fooled by those 'underguards' on the non-AMG-line model, though—both the front and rear ones are fake.
Still confused about the SUV-hatch-coupe looks? Here's some design-speak for you from the press release: "The clear contours, with reduced lines and accentuated planes, convey serene sportiness and modernity." Of course they do.
Merc also says that this new GLA is 10cm taller than its predecessor, but 1.5cm shorter. That said, it wouldn't be a model update if they didn't offer customers more, would it? So, there's more headroom in the front, more legroom in the rear, and far more tech as standard.
Speaking of tech—that interior. It's standard Mercedes fare in here, although those screens are still mightily impressive. Said screens can be had in three different variants: You can have two seven-inch displays, a seven-incher and a 10.25-incher, or the 'Widescreen' version with two 10.25-inch displays. Whatever spec you go for, all will come with the MBUX infotainment system.
So far, we only have details of two engines, but we know there'll be a wider range of both petrols and diesels. The AMG-ified GLA 35 comes with the same engine as its hatchback equivalent, so it's a 2.0-liter turbocharged four-cylinder engine that produces 306hp and is connected to an eight-speed dual-clutch transmission.
In the 35, 0-100kph is dispatched in 5.1sec, and you can even tick a box on the options list for something called AMG Track Pace. Apparently, this incredible option acts as 'personal racing engineer' and logs all your track data. That's right, don't come crying to us when your next track day is cluttered with small Mercedes SUVs.
Far more sensible is the GLA 200, which also houses a four-cylinder engine under its bonnet, although this one is a 1.3-liter engine with 161hp and 249Nm of torque. The gearbox in the 200 is a seven-speed job, and there's cylinder shut-off tech to help with emmisions and fuel economy. Merc claims 129g/km of CO2.
That's your lot, then—not that you've read this far through, of course, as most GLA sales will no doubt be based on looks and looks alone. So, what do we think of those?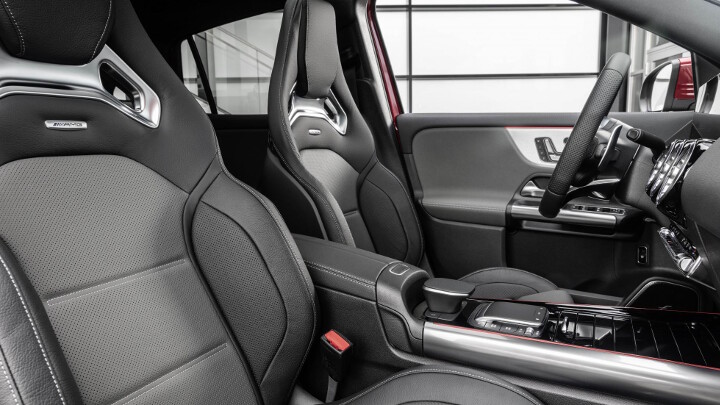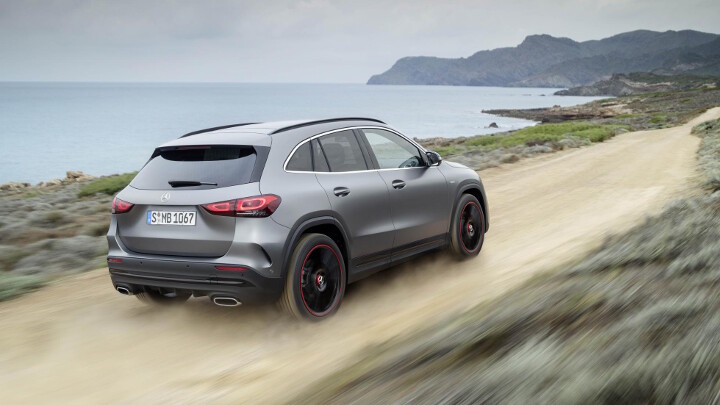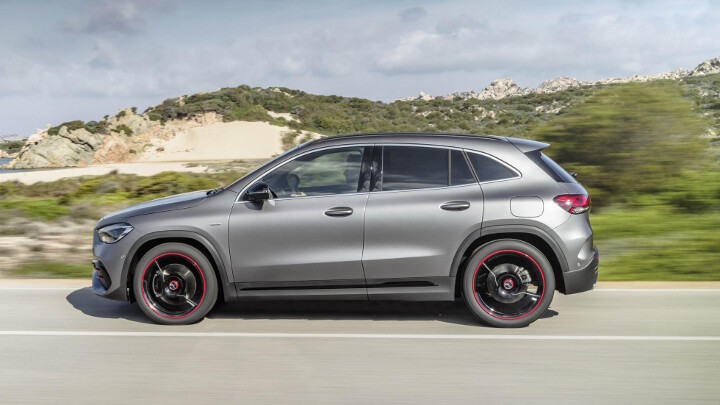 NOTE: This article first appeared on TopGear.com. Minor edits have been made.