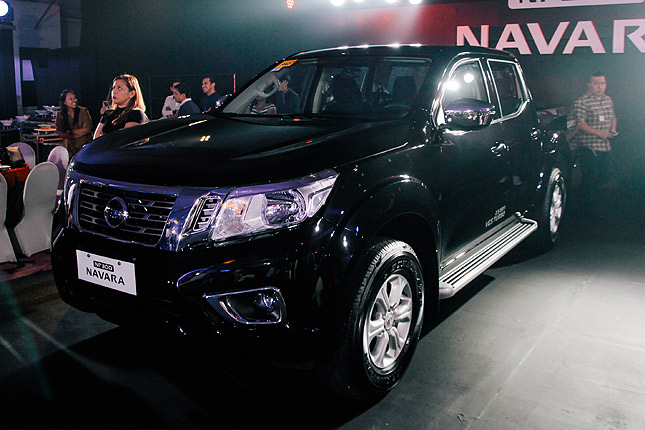 The pickup truck wars have begun, and Nissan Philippines is first to unveil its warrior. Will the company's combatant in the form of the all-new Navara soldier on to land in the top three pickup trucks in our market?
It's too soon to tell, so let's bare instead some things you should note about the Philippine-market Navara:
* The Nissan Navara is the first pickup truck to sport a seven-speed automatic transmission, according to Nissan Philippines president and managing director Antonio Zara. It is said to be the same transmission found in the Japanese carmaker's sporty cars like the 370Z.
* The current variants of the Navara offered in the country are all equipped with five-link coil rear suspension with stabilizer, while the Thai market has two rear suspension options (multilink coil and leaf spring). You probably know this by now. However, Zara said the company is open to offering the leaf spring option, should it receive requests from fleet customers.
(Read: 11 key features to expect from the all-new Nissan Navara)
* Although the Navara is competing with trucks equipped with a 3.2-liter engine (hello, Ford Ranger!), Zara is confident that the new Nissan pickup can more than hold its own. "It's not just about power," he pointed out. Nissan's pickup has a new-generation powertrain, the 2.5-liter DOHC in-line four-cylinder variable geometry system (VGS) diesel engine. The Navara's 4x4 variants are capable of 187hp (just about 10hp less than the Ranger Wildtrak 3.2 4x4's) and 450Nm. The Navara's 4x2 variants, on the other hand, can deliver 161hp and 403Nm. Check out the table below.
Continue reading below ↓
Recommended Videos
(Read: The introductory price list of the all-new Nissan Navara pickup)
* Nissan knows its Filipino customers well. Pickups here are not just used for their hauling capabilities. Nissan Motor Company corporate vice president Toru Hasegawa suggested that Pinoy entrepreneurs may use the new Navara on weekdays for their businesses and on weekends for recreation. "Riding comfort is passenger car-like," he said. This is because like the new X-Trail, the all-new Navara also has Zero Gravity Seats, which even our consumer editor found comfortable during six-hour drives.
* Hasegawa revealed at the press conference that the new-generation Navara's fuel efficiency is 10% better than its predecessor's. Zara also noted that the pickup truck has a significantly reduced weight, and maintenance cost wouldn't be a headache.
The all-new Nissan Navara is available in Savanna Orange, Alpine White, Galaxy Black and Brilliant Silver.
Photos by Mark Jesalva and Tracy Carpena
Nissan NP300 Navara variants
Engine/transmission
2.5L 4x4 VL 7AT
2.5L 4x4 VL 6MT
2.5L 4x4 EL 6MT
2.5L 4x2 EL 7AT Calibre
2.5L 4x2 EL 6MT Calibre
2.5L 4x2 6MT Calibre
2.5L 4x2 6MT
Code
YD25 DDTi
Displacement (cc)
2,488
Type
In-line 4-cylinder, DOHC, 16 valves, variable turbocharger (VGS) with intercooler
Transmission type
7-speed AT with manual mode
6-speed MT
7-speed AT with manual mode
6-speed MT
Maximum power (hp/rpm)
187 / 3,600
161 / 3,600
Maximum torque (Nm/rpm)
450 / 2,000
403 / 2,000
Fuel
Diesel
Fuel tank capacity (liters)
80
Compression ratio
15
Fuel system
Common-rail direct injection
4WD system
Part-time, shift-on-the-fly with rotary switch
None
Dimensions and weight
2.5L 4x4 VL 7AT
2.5L 4x4 VL 6MT
2.5L 4x4 EL 6MT
2.5L 4x2 EL 7AT Calibre
2.5L 4x2 EL 6MT Calibre
2.5L 4x2 6MT Calibre
2.5L 4x2 6MT
Dimensions (L x W x H in mm)
5,255 x 1,850 x 1,840
5,255 x 1,850 x 1,810
5,255 x 1,850 x 1,795
5,255 x 1,790 x 1,760
Wheelbase (mm)
3,150
Ground clearance (mm)
245
243
205
Curb weight (kg)
1,946
1,933
1,902
1,831
1,819
1,814
1,767
Gross weight (kg)
2,910
2,800
Bed dimensions (L x W x H in mm)
1,503 x 1,560 x 474
Seating capacity
5