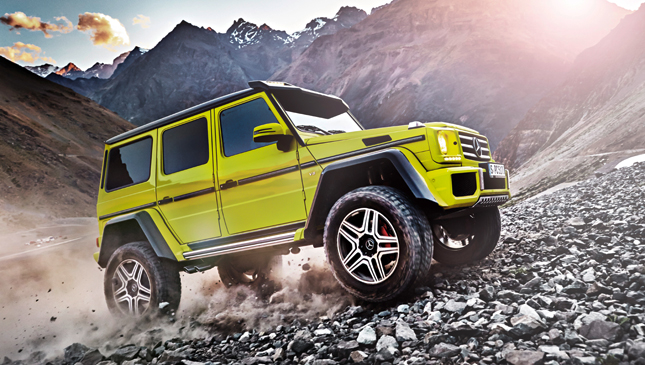 It's still hard to believe something like the insane Mercedes-Benz G63 AMG 6x6 exists. Yes, it costs as much as a small neighborhood, but it has five differential locks, six-wheel drive and supercar levels of power. Yet, even if we win the lotto, reports say the allocation of G63 AMG 6x6 units has been sold out. Bummer.
The good news for those of you with an off-road itch and a fat bank account is that a replacement--sort of--seems imminent. Mercedes-Benz has unveiled an almost production-ready show car: the G500 4x42. This is basically the 6x6, with its raised suspension and mighty all-wheel-drive powertrain, but with one less axle. A new 4.0-liter V8 with twin turbos powers this new G-Class variant.
There are twin exhaust pipes on both sides of the rear wheels to modulate the sound from the V8, which ranges from soft mumbling in neutral to "sonorous humming" at partial load, all the way to booming when accelerating. But positioning the exhaust at the sides also improves off-road capability, because this improves the departure angles.
The wider track of the portal axles, combined with the wide 22-inch 325/55 tires, makes the G500 4x42 perform well on asphalt and during cornering. But the SUV shines off the beaten path. Whether it's sand, rocks or water, the G500 4x42 can handle almost any terrain it faces.
Continue reading below ↓
Recommended Videos
Compared to the regular G500, this show car is better in a lot of ways: ground clearance (450mm vs. 210mm), approach and departure angles, breakover angle, and fording depth (1,000mm vs. 600mm).
Of course, this is still a Benz, so the cabin is replete with black leather with contrasting white stiching on the seat bolsters, head restraints, dashboard, center console and armrests. The seat surfaces and the door panels are covered in Dinamica microfiber and have diamond-design quilting.
We've always been fans of the G-Class, and this exciting new variant makes us eager to see what Mercedes-Benz will do to its iconic model next.