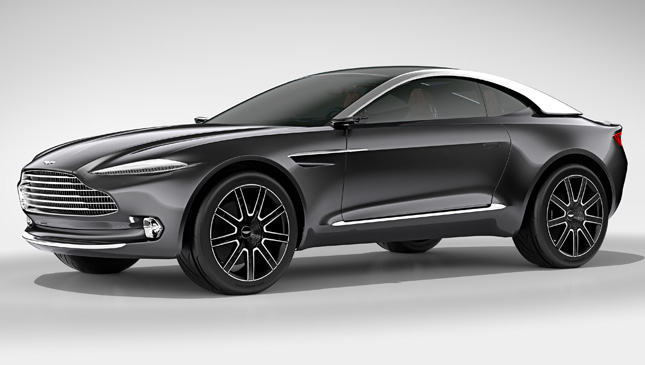 When news of the Bentley Bentayga and Rolls-Royce's planned crossover broke out, many folks in the motoring community wondered what the world was coming to. Imagine these two premium carmakers--known for churning out the most coveted luxury rides money can buy--joining a segment that everyone sees as a money bag on wheels. Well, it seems that they're not the only ones looking at a crossover-filled future. Aston Martin is set to join the fray with its DBX.
First unveiled in March as a concept vehicle, the DBX is the British marque's take on the luxury gran turismo crossover. Now it has been given the green light for production. That's right: This stylish concept vehicle will soon be roaming the world's roads.
While no details were given about the styling cues, a mere look at the DBX concept is enough to give us a hint of the crossover's real-life form. Take the exterior's bright accents, with its use of machined-billeted aluminum. Then there's the extremely glossy paintwork--Black Pearl Chromium, in this case--which gives the impression of a shiny black pearl.
ADVERTISEMENT - CONTINUE READING BELOW ↓
The cabin, likewise, mimics the attention to detail of the bodywork outside. The four individual seats, along with other interior surfaces, are covered in velvet-like nubuck leather. The fixtures are also reminiscent of furniture--a contrast to the high-tech equipment available. This makes the cabin a truly cozy place to be in while on the road.
Speaking of driving, the DBX concept comes with wheel-mounted electric motors that are powered by lithium-sulfur batteries. If this isn't high-tech enough for you, how do auto-dimming glass, personalized head-up displays for both driver and passenger, active LED lighting, drive-by-wire electric steering, and carbon-ceramic brakes sound? Oh, and did we mention that there are no external rearview mirrors? They are replaced by rearview cameras instead. Not only are these safer, they likewise reduce wind drag.
Whether or not all these high-tech goodies will make it to the production line remains to be seen. One thing is for sure: The DBX crossover shows us the future of luxury motoring. It is truly an exciting time if you're in the market for a luxury crossover.
ADVERTISEMENT - CONTINUE READING BELOW ↓
Recommended Videos
ADVERTISEMENT - CONTINUE READING BELOW ↓
ADVERTISEMENT - CONTINUE READING BELOW ↓