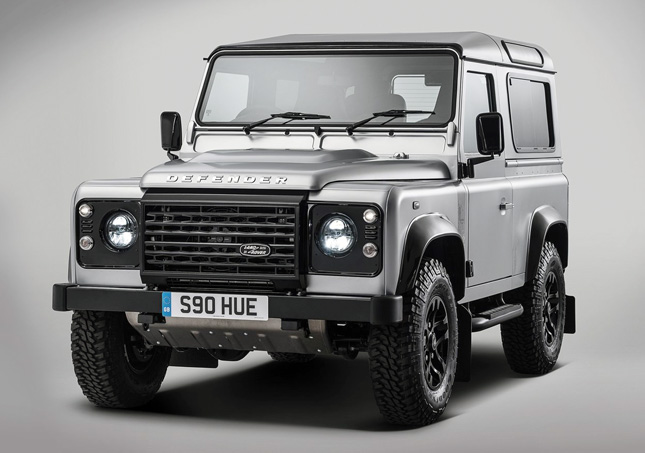 If you remember, British SUV specialist Land Rover celebrated its 6,000,000th-unit milestone back in April. That milestone unit was a long-wheelbase Range Rover, but as it turns out, it's the Defender that was largely responsible for that production tally. As in the Defender accounted for one-third of that total.
We know this now after Land Rover announced the Defender's own milestone unit--the model's 2,000,000th. And that's the historic unit you see in these photos. Of course, to mark the occasion, the carmaker made sure this wasn't just any other unit. The company invited "lifelong Defender fans" to the Solihull manufacturing plant to help put together the milestone Defender.
And one of those lifelong Defender enthusiasts was British adventurer Bear Grylls. Yep, your present-day MacGyver. Grylls then earned the right to sign his name on an aluminum plaque attached to the driver-seat plinth.
"The Land Rover Defender has been there for me more times than I care to remember," Grylls said. "They are so often the unsung heroes of our TV shows, working hard in the toughest conditions to get crew in and out of exceptionally challenging terrains. Known and respected by me and many other adventurers for their rugged reliability, it was an honor to be asked to take part in the build of this very special car."
Continue reading below ↓
Recommended Videos
Special features of the 2,000,000th Defender include: a map of Red Wharf Bay engraved into the aluminum fender; Indus Silver satin paint for the exterior; a unique 'No. 2,000,000' badge on the rear and on the interior console; Santorini Black wheels, roof, door hinges, grille and mirror caps; 'Red Wharf Bay' graphics and 'No. 2,000,000' logos stitched on the leather seats; and S90 HUE registration plates (a reference to the first-ever pre-production Land Rover that had registration HUE 166). Red Wharf Bay is said to be the place "where the design for the original Land Rover was first drawn in the sand."
The unit will be publicly unveiled by Bonhams at the Goodwood Festival of Speed, which will run from June 25 to 28. And then it will be auctioned at a charity event at the Bonhams auction house on December 16 this year.
Interested? You will need plane tickets to the UK. And a whole lot of cash.