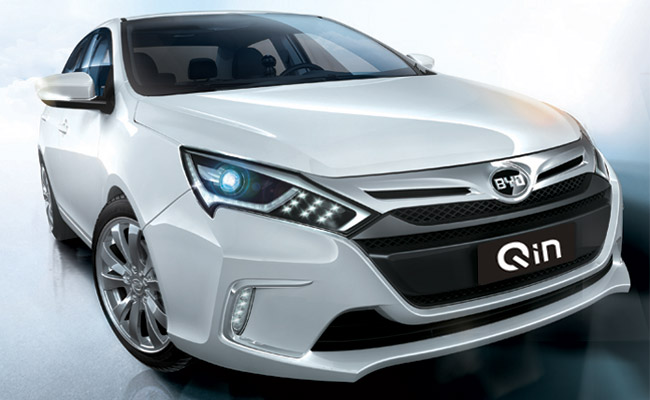 In September last year, we asked the Philippine distributor of Chinese-made BYD cars, Solar Transport and Automotive Resources, if they had plans of bringing in BYD's electric vehicles, since BYD had made its name with its rechargeable batteries.
"Only when the Philippine market is ready for it and has the infrastructure in place will BYD begin selling its hybrid and electric models here," the company told us that time. "Ideally, the charging stations would be located in malls, but Meralco couldn't say when it will begin introducing the service to the public."
It seems the conditions now are more accommodating toward electric and/or hybrid vehicles. According to BYD Philippines, it will launch the compact plug-in hybrid Qin later this year, most likely in November. This announcement was made by company deputy general manager Jose Paolo Soriano and marketing manager Marissa Nebrida-Balmaceda during a visit to the TopGear.com.ph office.
The Qin, according to Soriano, will be about as big as the Toyota Corolla Altis, but will be much more expensive due to its high-technology hybrid propulsion. The projected price? About P2.5 million.
ADVERTISEMENT - CONTINUE READING BELOW ↓
Now, before you laugh at the thought of a P2.5-million compact Chinese sedan, Balmaceda is quick to point out that in 2013, BYD was already the 10th best-selling car brand in China--and the top-selling one among all the Chinese brands. The ranking is based on a sales tabulation by the China Passenger Car Association.
The Qin is powered by a 1.5-liter turbocharged internal-combustion engine and a 110kW electric motor, which combine to produce a total of 290+hp and 400+Nm. Here's the best part: BYD claims that this car can run 100km on just 1.6L of fuel. Basic math will tell you that's an incredible 62.5km/L. Also, the car can reportedly do 70km in pure electric mode alone.
Of course, we can't comment on these figures until we get our hands on this car. In the meantime, here's a question for you: Are you ready for a P2.5-million compact hybrid sedan from China that does 62.5km per liter of fuel?
ADVERTISEMENT - CONTINUE READING BELOW ↓
Recommended Videos