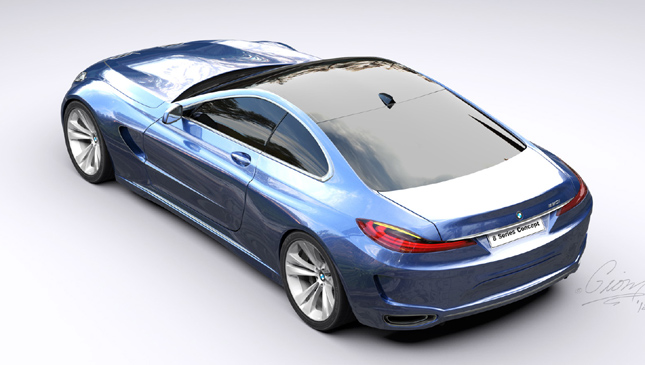 Remember the BMW 8-Series? In case you're too young to recall, the Munich-based carmaker came out with a two-door grand tourer (or GT) produced from 1989 through 1999. In true GT fashion, it was big, yet had a mix of refinement and sport rolled into one.
But alas, BMW discontinued the model, and all we have now are enthusiasts looking to find a prime example. And just like any true-blue car fan, there are those who want to see this particular nameplate revived. One of these guys is Giom Mouton, a South African artist who has recently come up with renderings of what he thinks could be (or should be) the next 8-Series.
Thanks to computer-aided design and a vivid imagination, Mouton dreams up an all-new 8-Series that's essentially a more modern take on the original car. If you recall, the 850i, for instance, had a long hood and a large trunk--in keeping with classic two-door coupes of the time. The 'new' car continues this, thanks in no small part to it being based on the current-generation 6-Series Gran Coupe. This has made it possible to move the cabin space backward for long front proportions.
In keeping with BMW tradition, the rendered car has that classic "shark-nose" front end--a forward-leaning styling cue seen on '70s Bimmers. The twin-kidney grille is now flanked by slim headlights. This somehow gives the new car a hint of nostalgia, as the old one had the then-fashionable pop-up lamps. The wedge shape is finished off by a rounded rear section. This gives it better aerodynamics as well as a sportier and stronger appearance. The look is completed by the signature L-shaped taillight clusters.
Continue reading below ↓
Recommended Videos
Since this is meant to be a GT car (as the original was), only two passengers can enjoy the ride. They will be propelled by a 6.0-liter V12 engine, giving the car loads of grunt at every part of the rev range. While this car boasts the utmost in luxury amenities, it will still be able to perform beautifully on the straights and around the bends. It is, after all, an Ultimate Driving Machine.
For now, however, all this remains to be a mere vision. Still, it does tickle the imagination. Who knows? We may still see a new BMW 8-Series rolling out of Munich one day. Until then, let's enjoy these cool photos.