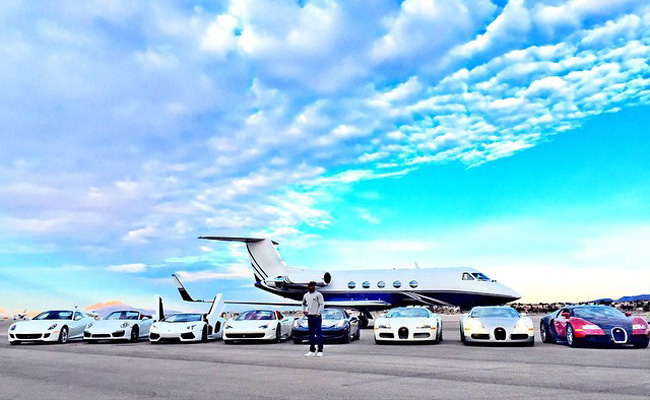 Floyd Mayweather isn't afraid to show off, and his Instagram account is proof of that. Through the social-media channel, the boxer has shown off his extravagant lifestyle--counting stacks of $100 bills on a table, being bathed by a woman in his bathtub, or showing off his 80 pairs of Christian Louboutin shoes.
Of course, cars play a part in Mayweather's life. In a recent post, he actually displayed eight of his cars along with his Gulfstream jet. Being the boastful person that he is, Mayweather listed down the cars in the picture:
* Bugatti Veyron
* Bugatti Veyron
* Bugatti Veyron Grand Sport
* Ferrari 458 Spider
* Ferrari 458 Spider
* Ferrari 599 GTB Fiorano
* Lamborghini Aventador
* Porsche 911 Turbo S
Of the eight cars, the Bugatti Veyron Grand Sport seems to be his favorite since it has appeared a handful of times on his Instagram account. Also, this is probably just a small percentage of his automobile collection, because he has also previously posted on the social-media platform other cars he calls his own--like a couple of Rolls-Royce Ghosts and a Wraith, a red 458 Spider, a silver-and-black 458 Spider, and a Bentley Mulsanne, just to name a few.
Continue reading below ↓
Recommended Videos
So, what do you think of Mayweather's car collection?