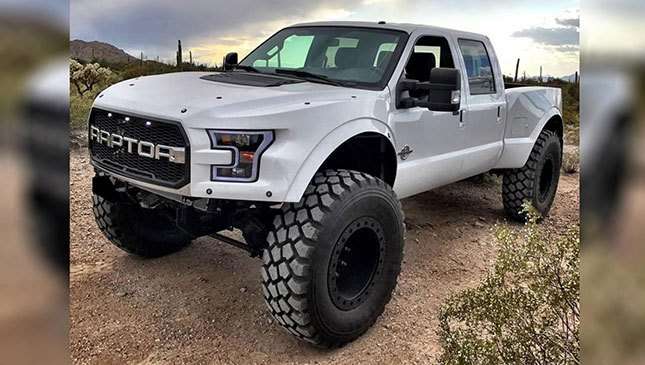 Not a single person, except perhaps John Hennessey, has ever looked a Ford Raptor in the headlight and thought "yes, this is excellent. I just wish it was a bit more…extreme." Well, turns out Mr. Hennessey is not alone. Welcome, everyone to the MegaRaptor.
It's the work of F250R, which is based in Tucson, Arizona. While the regular Raptor is based on the Ford F-150, the MegaRaptor is based on the Ford F-250 or 350 Superduty—a much bigger truck, with much better towing capacity. F250R strips them back to their component parts, before fitting massive wheels and tires, special suspension (a four-inch Icon lift with Bilstein shocks) and extra fiberglass bodywork (and new headlights) designed to mimic the latest Raptor's "sexy sport look."
According to F250R, the taller tires help "lift the differentials out of mud, snow, rocks," and the relatively tame four-inch lift keeps the center of gravity low for stability. The cheaper 'SuperRaptor' gets 40-inch Michelins, while the MegaRaptor (pictured) gets mammoth 46s (and the more open wheel wells needed to accommodate them). The Mega also gets rims as used on MRAP military vehicles, which is very cool indeed.
While the factory Raptor gets an EcoBoost V6, MegaRaptors most certainly do not. F250R recommends Ford's 6.7-liter turbodiesel, which gives 440hp and a most healthy 1,254Nm as standard. Not that you have to keep it that way…
A MegaRaptor is $28,000 (P1.39 million) on top of your donor truck, and a SuperRaptor $22,000 (P1.1 million).
We won't be surprised if this or something inspired by it pops up at the next big motor show.
ADVERTISEMENT - CONTINUE READING BELOW ↓
NOTE: This article first appeared on TopGear.com. Minor edits have been made.
ADVERTISEMENT - CONTINUE READING BELOW ↓
Recommended Videos