Here in the Philippines, you may have noticed there are two ways to modify a pickup truck: a) You can go the tacky route and make it like something it's not; or, b) You can take the functional route and focus on utility.
The trick is to find the right balance, because it's easy to get carried away. Thankfully, the Ford Rangers at the 2018 Specialty Equipment Market Association Show (SEMA) in Las Vegas, Nevada, appear to have struck the nail right on the head.
Ford's hit pickup truck—at least here in Southeast Asia—has yet to even launch in the US, but the company's performance division is already busy previewing all of the Ranger's aftermarket possibilities. Below are seven of the scene-stealing Ranger displays at SEMA 2018:
1. Ford Ranger Pre-Runner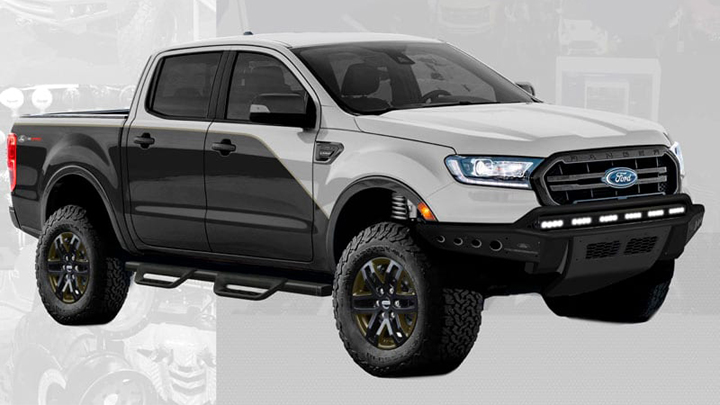 Continue reading below ↓
Recommended Videos
The base Ranger 4x4 gets a 3.73 electronic locking rear differential, a Fox/BDS Suspension three-inch leveling kit with off-road shocks, a BDS upper control arm kit, a Ford Performance cat-back exhaust, and BFGoodrich All-Terrain KO2 tires. It also boasts a burlier front bumper, an integrated skid plate, a rock slider, a 40-inch light bar, and LED underbody lighting.
2. Ford Ranger Base Camp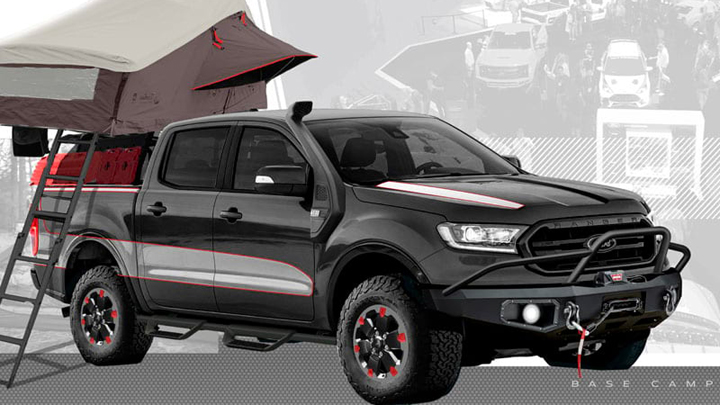 The rooftop tent should come in handy for naps in between river crossings and other off-road shenanigans. There's a truckbed light and rail cargo-management system for keeping glamping necessities in order, as well as Ford Performance skid plates, air intakes, and differential covers.
3. Ford Xbox Ranger by Addictive Desert Designs
Built in collaboration with Nick Andrew—one of Forza's most established gamers—the Xbox Ranger features a pair of custom-mounted Xbox Ones in the rear. It comes with a lift kit, 17-inch Rev 883 wheels, BFGoodrich Mud Terrain KM3 tires, and LED light bars. Ford might want to throw in a sick bag or two in there, too, on account of all the heaving bound to happen in the back.
4. Ford Ranger Project Nightfall
For those who prefer a stealthier vibe to their off-roaders, we present Project Nightfall. This pickup comes equipped with Fox shock absorbers, 20-inch Black Rhino Mint wheels, Bushwacker fender flares, custom Ford Performance stealth bumpers, and a cool paint finish courtesy of Lynch Concepts.
5. Project Ranger X from BDS Suspension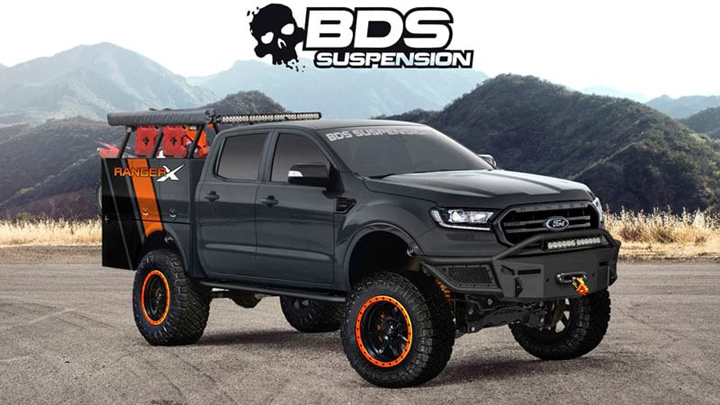 The Ranger X features a long-bed conversion that extends its wheelbase to 3,454mm, a utility box, and a customized rack system for tools and recovery gear. Carrying this beast is a Fox suspension setup, KMC XD Series Grenade off-road wheels, and BFGoodrich Mud Terrain tires. This is arguably the most utilitarian Ranger of SEMA 2018.
6. Baja-Forged Ford Ranger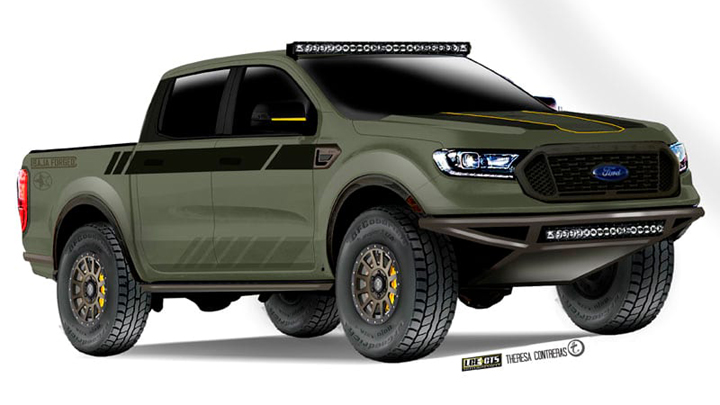 This one's going for a military look: army-green paint finish, tube-style front and rear bumpers, a bed cage, and fender flares. The bronze alloy wheels come courtesy of Icon Rebound, and there's a roof-mounted light bar, a white backlight, and some amber lighting, too.
7. Air Design USA Ranger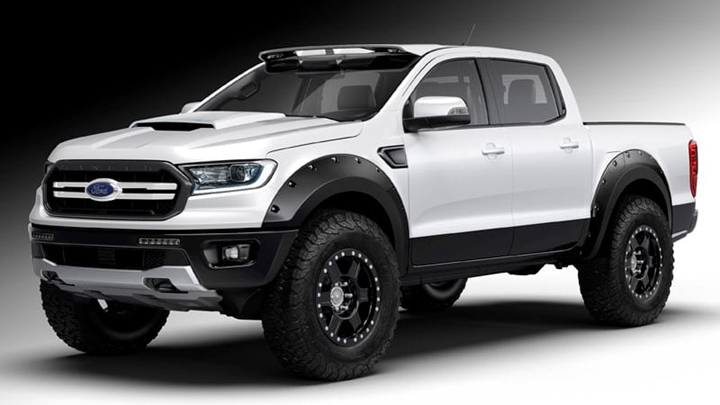 We've saved the cleanest Ranger for last—well, at least it's 'clean' by SEMA standards. This Ranger shows off an aggressive bodykit featuring bumper flares, fender vents, a hood scoop, and a rear cab spoiler. It rides on a BDS Suspension with Fox coilovers and shocks, and 20-inch satin-black wheels.