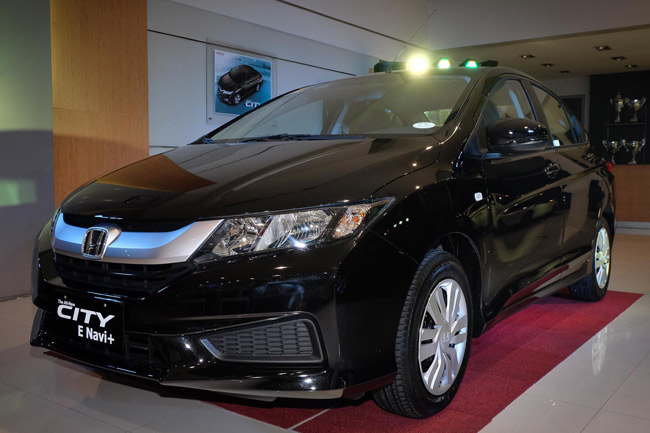 The new Honda City has been out for only five months, and judging by the number of units we see on the road, it seems to be doing well. According to an official source, an average of about 700 City units are sold per month. Honda Cars Philippines, however, isn't resting on its laurels. It is aggressively pushing its cash cow by coming out with new variants.
Last month, we saw the City Mugen VX Special Edition make its bow at the Philippine International Motor Show. And last night, HCPI surprised us by coming out with another City variant, this time catering to the lower end of the model lineup.
The new car is called the Honda City E Navi+. As the name implies, this is based on the City E variant, but with an upgraded audio head unit called the Audio-Visual Navigation (AVN) system. The AVN system has a seven-inch touchscreen to access and control all its features.
The highlight is the built-in Garmin navigation system that has capabilities like a 3D view, an expressway exit guide, a route information view, and a Lane Assist with something called Photoreal Junction View that supposedly shows when your City arrives at a complex intersection. Of course, Honda dealerships have been embedded in the system, so owners can search for Honda sales and service establishments nationwide.
Continue reading below ↓
Recommended Videos
As with most factory-installed navigation systems, the Garmin maps can be updated for free for three years at authorized Honda dealers.
The AVN also features nifty multimedia functions. There's DVD playback and music sourcing from USB, iPhone and Bluetooth-capable devices.
According to a source from HCPI, this new City E Navi+ was created to shore up the bottom variants that don't have the touchscreen of the higher-end City models.
Other than the AVN system, there is nothing different with the Navi+ externally and internally. The price does change, of course: The City E Navi+ manual retails for P816,000, and the City E Navi+ CVT goes for P856,000. That's an increase of P60,000 from the AVN-less City E cars.
The City E Navi+ seems like an interesting proposition, especially the manual version. At P856,00, however, the CVT Navi+ is precariously close to the next City variant, the VX, which is priced at P880,000. That's something to consider. But in the end, we think more choices are always better.
Photos by Mikko David