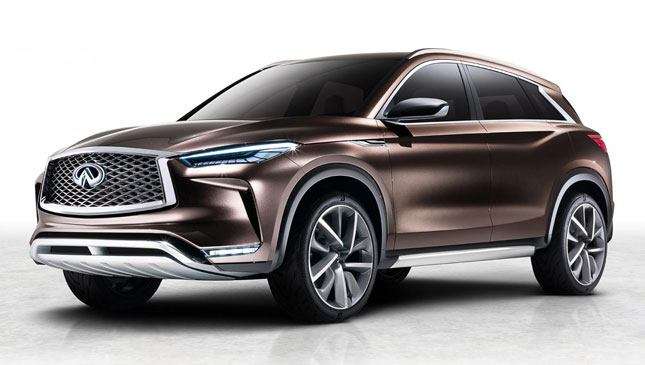 It's the Detroit Auto Show next week, and among the new cars on display will be this, the new Infiniti QX50. It is, as your eyes may have helped you identify, an SUV. A "next-generation midsize premium SUV," according to Infiniti.
That tells us it's an Audi Q5, BMW X3, Mercedes GLC, and Porsche Macan rival (although those models are more compact SUV in size). It looks nicely sharp and chiseled, in a way the car it replaces isn't. The new one looks decent, no?
It's a concept for now, and that means little technical detail but much styling talk. The design language is called 'Powerful Elegance,' while the interior, when we see it, will be "driver-centric, passenger-minded." So expect some nods to sportiness in the dials, and the key dashboard controls to be angled toward the driver's seat, a la BMW.
Perhaps unexpectedly for a car that's "driver-centric," though, there is plentiful talk of autonomous-ness. "Infiniti's autonomous drive technologies will act as a 'co-pilot' for the driver, empowering rather than replacing them," says the Japanese company. "It will 'delegate' more onerous driving tasks to the car—such as navigating stop-start traffic on the highway or keeping track of the positions of surrounding vehicles."
ADVERTISEMENT - CONTINUE READING BELOW ↓
From this we presume the QX50 will have a posh cruise control system that drives you through boring traffic jams at low speed, and it's perhaps a loaded hint that Infiniti won't be entirely following the self-driving path like Audi and Mercedes seem to be. Interesting.
While firm technical details of the QX50 are scant, Infiniti has suggested it will come with a turbo gasoline engine that provides a clean alternative to the diesel tech, something that dominates the SUV market in Europe. A 2.0-liter four-cylinder with around 270hp, it sounds promising. Whether it gives the QX50 an appealing unique selling point or simply corners it into an oddball niche, we'll wait to see.
Expect more pics and details in a week's time, when the QX50 emerges from a midsize, premium cover in Detroit. Like what you see so far?
NOTE: This article first appeared on TopGear.com. Minor edits have been made.
ADVERTISEMENT - CONTINUE READING BELOW ↓
Recommended Videos