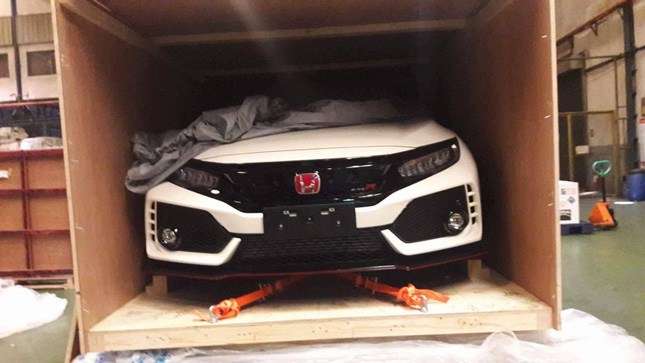 You might have seen a photo circulating recently, showing a white Honda Civic Type R inside a large wooden crate. Based on that picture alone, it was hard to determine if it was indeed taken in the Philippines. This corroborates our theory that this unicorn is coming, but it wasn't conclusive.
However, something arrived in our mailbox recently that lent credence to the photo's location. A reader sent us two photos of the same car, and he said it was taken in Metro Manila.
The first photo is a slightly different angle, showing a more straightforward pose. And the second photo is an unseen quarter view with the doors open. In this picture we can see the red seats and the red center caps of the wheels. The open hood is a tease, almost showing us a glimpse of the turbocharged engine. And how can one miss the gigantic spoiler?
Continue reading below ↓
Recommended Videos
Yup, this looks like a Type R to us.
We suspect we will only see official confirmation of the Civic Type R's arrival once Honda Cars Philippines president Toshio Kuwahara removes the cover during the Manila International Auto Show, happening from March 30 to April 2. It seems that as far as Honda's highly, highly anticipated model is concerned, it's not a matter of 'if' anymore, but 'when'.
So on the opening day of MIAS, we don't need to tell you what booth you shouldn't skip.