This is the Imagine by Kia, a concept car that may have a slightly silly name, but rather more important, proves Kia's electrified future has a sense of humor. Phew.
"Automotive design is about capturing the heart and making it beat that bit faster for that bit longer," says Kia design boss Gregory Guillaume. "We believe that there's absolutely no reason why that should change simply because the car is electric."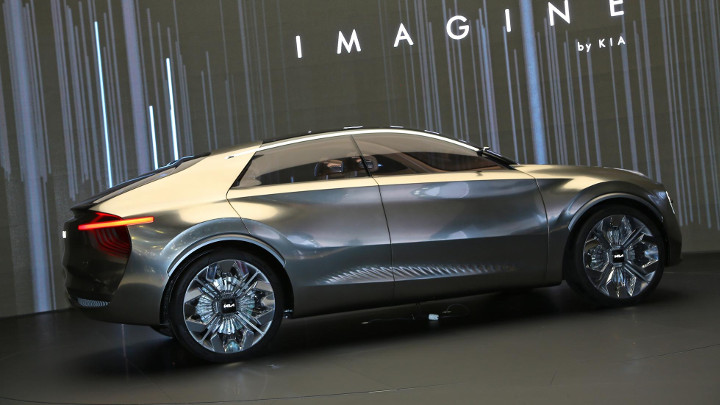 So as well as looking punchy—and not unlike a shrunken-down Kia Stinger with some slightly Fast and Furious illuminated details—there's playfulness beneath it all. Such as the stack of 21 (yes, 21) interior screens that are a tongue-in-cheek take on the increasing acreage of media displays inside cars. They look like a clumsily laid down deck of cards and eschew the straight-laced polish normally bestowed upon crystal-ball concepts.
Continue reading below ↓
Recommended Videos
You'll need a crystal ball to work out what else is going in inside the Imagine, though, as Kia's quest to make you smile has seen it ditch any description of powertrains, by virtue of that being too boring. So beyond batteries sandwiched in the floor that feed an electric motor or two (at an unspecified axle), we know nothing about what powers it.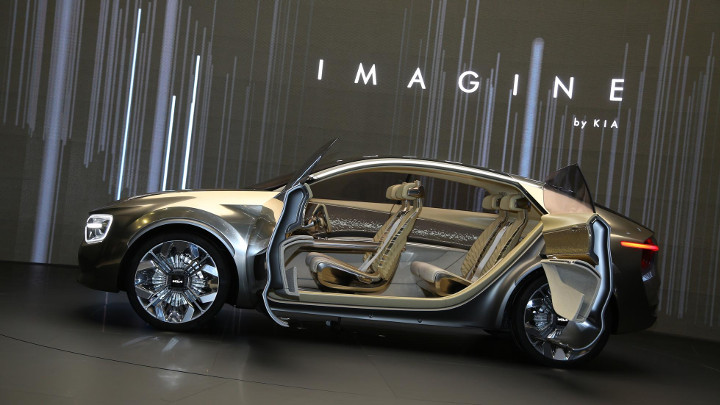 But Kia Europe's COO Emilia Herrera is adamant that fully-electric cars are just one prong of his company's future. "We don't think the future is 100% electric, so we're prepared for all types of engine technology," he tells Top Gear. "That's why we have internal combustion, hybrid, plug-in hybrid, fully-electric, and we're working with our Hyundai brothers on a hydrogen vehicle, which we'll see by 2021 at the latest."
"The idea is to have everything available in our range, and every vehicle we launch from now on will have some form of electrification, even the Picanto," he goes on. "We're adding plug-in hybrid for Ceed in November, for instance."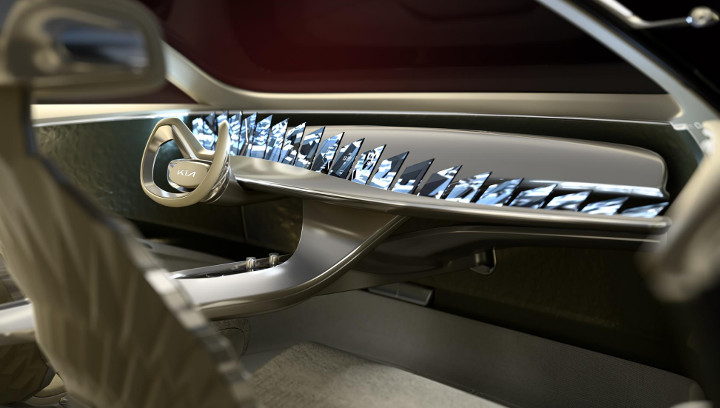 Kia beat a number of its rivals to launching an electric car, with the original Soul EV in 2014—something Herrera is proud of: "It was important being as it sends a clear message to consumers to say 'we're there.'"
He's also pretty certain diesel's going nowhere: "Dieselgate changed the thinking of the consumer. There was a time when people were buying diesel even if they didn't need it. It will remain at a certain percentage from one market to another, as it makes a lot of sense for driving long distances or in bigger segments like SUVs. Maybe we will add some electrification to it, but diesel is not dead."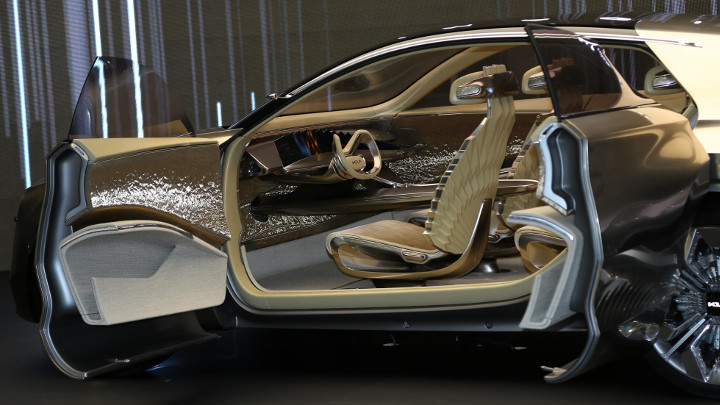 Herrera adds that the Stinger, which the Imagine concept clearly borrows some styling cues from, has proven to be a success, albeit not by the traditional metric of, y'know, car sales.
"It's done very well in terms of sending a message of what the brand is all about and the more emotional design direction it's going in," he says. "We were very well recognized for quality, our seven-year warranty, and so on. But we needed to bring some emotion to the brand. We're not trying to push more Stingers into the market and we want to keep the residual values good, so we're not going to be pushing any big discounts."
NOTE: This article first appeared on TopGear.com. Minor edits have been made.