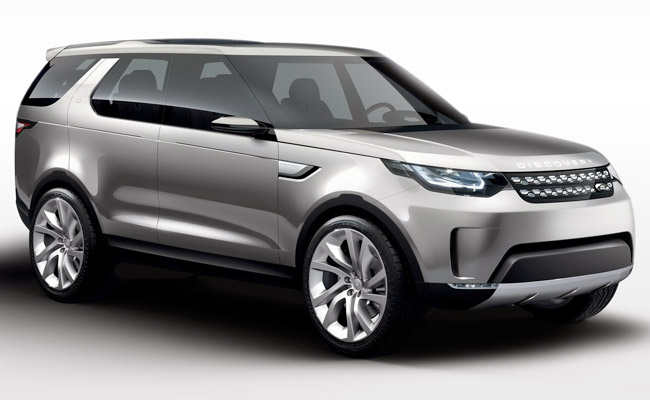 In 2015, the all-new Land Rover Discovery is scheduled to be launched globally. But before it happens, the British vehicle manufacturer is giving us a glimpse of what its future family of Discovery vehicles might look like with the Discovery Vision Concept. That's right: From a single vehicle, the Discovery is being transformed by Land Rover into a family of vehicles.
"We announced at the Geneva Motor Show in March that the Discovery family is set to evolve," said Jaguar Land Rover group marketing director Phil Popham. "And it is apt in the 25th anniversary of the original Discovery that we preview how this evolution will take us forward into a daring new era. The Discovery Vision Concept gives us the first stunning glimpse into this hugely exciting future."
The Discovery Vision Concept continues the design elements that have long been associated with the Discovery nameplate like the stepped roof and the alpine lights. Its overall design, however, is more radical and embodies "Land Rover's vision of the ultimate leisure SUV."
The vehicle's interior is reportedly spacious and versatile, thanks to its highly reconfigurable seating. By folding the seats flat or sliding them forward or back via the touchscreen menu, the Discovery Vision Concept can be converted from its standard seven-seat layout to a six-seat, five-seat or even four-seat "limousine" mode. The vehicle also has a powered, single-piece-design tailgate that--in conjunction with a deployable rear sill step and a folding bench seat in the loading area--creates "a flexible event platform with social seating for active lifestyles."
Continue reading below ↓
Recommended Videos
What makes the interior of the Discovery Vision Concept really versatile is the fact that the cabin is finished in two innovative types of washable and water- and oil-repellent premium leather that can be cleaned in seconds.
Advanced technologies that are currently under development and may soon find their way in Land Rover's vehicles will also debut in the Discovery Vision Concept, like the transparent hood system we reported a few days ago, next-generation terrain response system, laser terrain scanning, wade aid sensor system, all-terrain coach guidance system, and all-terrain progress control that "enables semi-autonomous off-road driving at a steady speed across varying terrain."