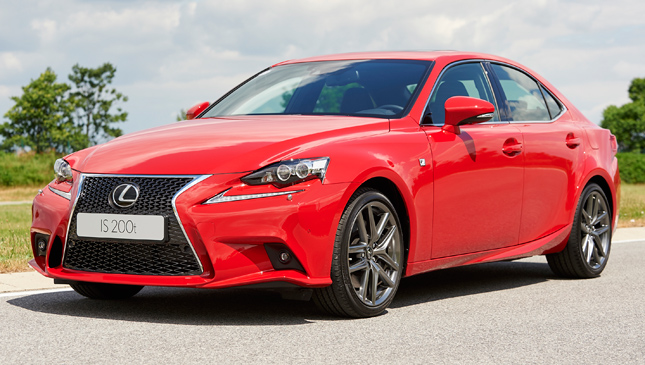 By now, you've probably heard of Lexus's new sales hit, the NX200t compact crossover. Packing a high-performance, low-displacement 2.0-liter turbocharged four-cylinder engine, the swoopy Lexus delivers rapid acceleration and stellar fuel economy, wrapped in a versatile package.
But what if you could take that same engine and put it in a sports sedan--say, the IS? Well, this is exactly what Lexus has done by rolling out the IS200t. The newest variant of the IS family joins the NX and the soon-to-be-introduced RX200t in packing a small-displacement powerplant that has performance-car numbers written all over it.
What makes this 2.0-liter turbocharged motor so special is its combination of an integrated exhaust manifold, water-cooled cylinder heads, and, of course, a twin-scroll turbo. All these combine to produce a robust output of 245hp at 5,800rpm, and 350Nm at 1,650-4,400rpm.
Equipped with the Japanese luxury brand's eight-speed direct-shift automatic gearbox that powers the rear wheels, the new IS200t can scoot from 0 to 100kph in just seven seconds, and hit a top speed of 230kph. Despite these figures, the new IS can still achieve roughly 14.3km/L in mixed driving conditions. Plus, Lexus has put in place a host of technologies to help eliminate turbo lag and give the car that characteristic smoothness Lexus has been known for all these years. You've got stuff like calcium-free oil that helps reduce engine knock at low speeds, a piston-cooling oil jet stream, a water-cooled intercooler, and an electric air bypass valve.
Continue reading below ↓
Recommended Videos
Speaking of the eight-speed transmission that is also shared with the RC-F sports coupe, the latest direct-shift gearbox makes the driver look like a pro even without him trying. Its smart computer brain downshifts when braking hard before entering a corner. It then holds onto a lower gear while cornering, then shifts to the best gear possible when exiting. In fact, you may not need to use the paddle shifters as this tranny seems to outsmart most drivers.
Being an IS, the IS200t retains the looks that have made the third-generation model a popular choice. The brand's spindle grille, the mean-looking yet sleek headlights with DRLs, the sculpted body panels, and the coupe-like roofline all make for a practical yet sporty character.
The IS200t will be available in Europe starting this September. Will it ever arrive on our shores? The JPEPA rule might make it tricky to bring the price down (as the engine's displacement is lower than 3.0 liters), but we're hoping for the best.