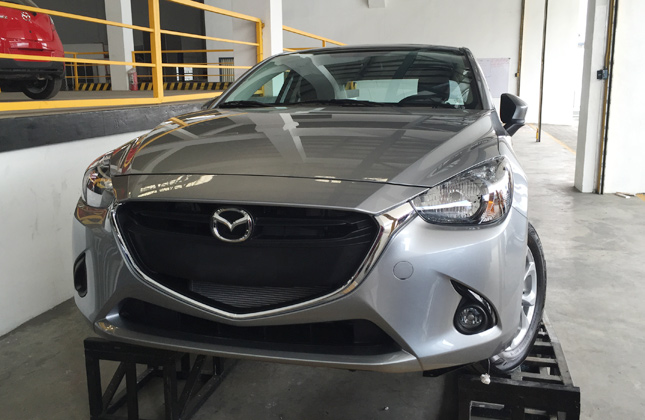 The local distributors of car manufacturers are known to be extremely secretive when it comes to new models to be launched in our market. Sure, we often get first dibs on advance information regarding these new cars, especially as we have a rather long lead time in putting together our monthly magazine. But there are still instances when even our closest friends in the industry refuse to share product info with us until the very last minute.
This is probably one of them.
When we recently picked up a vehicle at Mazda Philippines' warehouse in Batino in Laguna--that's a barangay in Calamba, by the way--we saw this: the sedan version of the new Mazda 2. This car was officially presented by the Japanese carmaker in Thailand in November, and now it seems it's hitting Philippine showrooms soon.
We know many of you are waiting for this car, at least judging by the amount of likes and comments it collects whenever we share it on our Facebook page. So here it is, in all its shiny-metal glory.
Now, before we scare off other car companies--because we're revealing what looks like a secret at the moment--we want to make it clear that we asked Mazda Philippines' permission if we could share these photos. They said yes.
Continue reading below ↓
Recommended Videos
So...those in the market for a small sedan, don't say we didn't tip you off.
Photos by Dinzo Tabamo