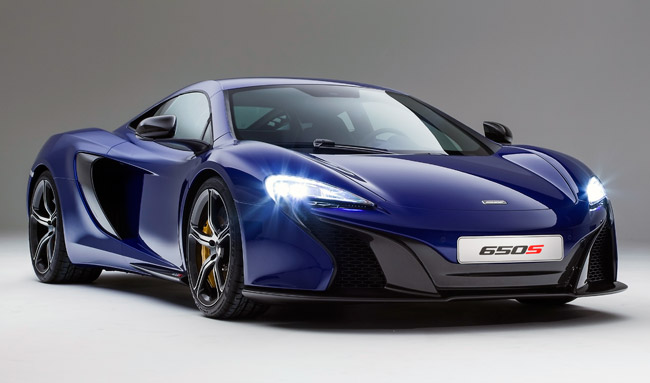 Yesterday, we posted low-resolution photographs of the new McLaren 650S, which we'd found floating around cyberspace. Today, we're bringing you official images released by McLaren Automotive itself, along with some of the car's specifications and equipment.
First off, we've learned that the 650S is so named because its British-built McLaren M838T twin-turbo V8 engine produces 650ps, which is equivalent to 641hp. The car is available either as a fixed-top coupe or as a convertible (with a retractable folding hard top). McLaren has promised to reveal the 650S's performance figures ahead of the car's global reveal at the 2014 Geneva International Motor Show on March 4. One thing is already certain, though: The 650S's numbers will be better than those of the MP4-12C.
If you think the 650S looks like the P1 especially when viewed from the front, you're actually correct. McLaren has said so itself: "The design is inspired by the P1, previewing a new family design language. The front bumper gives the 650S a dramatic yet clean appearance, and sits below new LED headlamps that reflect a similar look to the P1."
ADVERTISEMENT - CONTINUE READING BELOW ↓
"As always with McLaren, the new design is there for good engineering reasons," said McLaren Automotive CEO Mike Flewitt. "The newly designed front bumper improves downforce and steering turn-in. The high-speed handling balance is now even better. The LED lights use less power and last longer."
Among the special features of the 650S are:
* Unique side intakes placed behind the dihedral doors;
* Large radiators that help provide the cooling requirements of the mid-mounted, compact engine;
* New-design five-spoke lightweight forged alloy wheels wrapped with Pirelli P Zero Corsa tires;
* Optimized McLaren Airbrake that deploys whenever the car senses a need for extra downforce;
* ProActive Chassis Control suspension system that adjusts ride and handling modes (Normal, Sport and Track); and
* IRIS satellite navigation with Bluetooth telephony, DAB digital radio (SIRIUS satellite radio in North America), wireless tethering, audio streaming and voice control
The options, meanwhile, include fixed-back carbon racing seats, electric steering column adjustment, a rear parking camera, and extensive use of carbon fiber for the interior.
"McLaren is a fast-moving company, continually striving for improvements and technical advantages," pointed out Flewitt. "We are always seeking to innovate, to be the class leaders, to bring new technologies and thinking to market. That's our Formula 1 heritage shining through. Everything we've learned from the 12C and the McLaren P1 has gone into the design and development of the McLaren 650S."
The 650S, according to McLaren, is joining its current product range above the MP4-12C.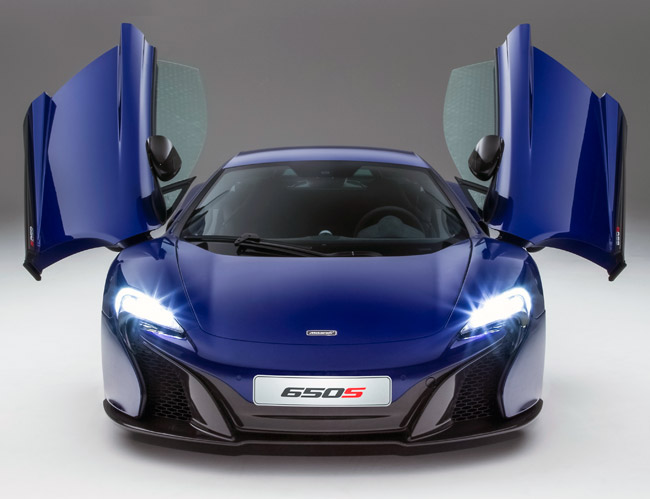 ADVERTISEMENT - CONTINUE READING BELOW ↓