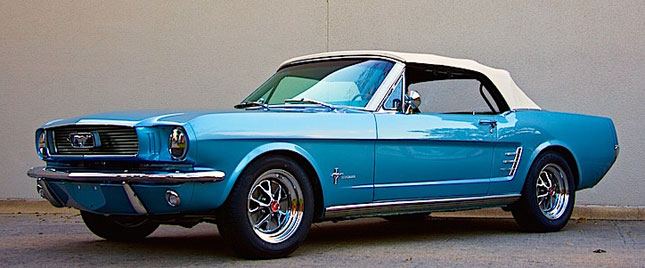 The concept of updating old cars with modern technology isn't new, especially in the realm of classic Mustangs. Most may have gone the "Eleanor" GT500 route of modifying these classics, but a Florida-based company decided to put a new twist to this concept.
Meet Revology's Mustang replica. It combines the classic styling of the first-generation '65 to '66 Mustang with modern technology. Tom Scarpello, Revology's founder, calls it a post-modern interpretation of the original. This replica features a brand new Ford-licensed reproduction Mustang body by Dynacorn. At first glance, it could be mistaken for a well-restored classic, but upon closer inspection you will notice that its round headlights and tri-bar taillights are actually LED units.
Inside, the same theme continues with its modern tech integrated to preserve the classic look. Electronic gauges with a message center and LED lighting are built into the original gauge bezels. The auxiliary input jack and the USB port are kept out of sight in the ashtray. Another nice clever touch are the window cranks, which are repurposed as power window switches. And yes, the car comes with an A/C, perfect for those summer drives.
Under the hood is an electronic fuel-injected 5.0-liter OHV Windsor V8. Although the power output wasn't specified, Autoweek reports that it produces about 265hp and 407Nm. Revology chose this powerplant due to its compact physical size, which allows it to fit in the first-generation Mustang's engine bay without structural changes. Two transmission options will be offered: a five-speed manual and a four-speed electronically controlled automatic with overdrive.
Continue reading below ↓
Recommended Videos
Handling has also been improved. This reborn Mustang features a new MacPherson front strut suspension, and a three-link coil-spring rear suspension with a Watt's linkage to keep the axle centered. To improve steering feedback, it features modern rack-and-pinion steering with a 16:1 ratio. Stopping power has been upgraded as well--it now features four-wheel disc brakes, with 11.7-inch rotors up front and 11-inch rotors at the rear.
Safety has likewise been improved. There are now door intrusion beams, a collapsible steering column, a dual-chamber master cylinder, and a fuel pump inertia switch. A bladder-type fuel tank and head restraints are available as options.
Production of the Revology Mustang begins in spring of 2015. Prices start at $119,500 (P5.36 million) for the fastback model with a manual transmission.
What do you think of Revology's Mustang replica? Do you like its philosophy of preserving the original car's classic lines?