The next generation Mercedes-AMG C63 will be 4WD, bringing to an end the era of Merc's fast rear-wheel drive super-sedans. Following in the footsteps of the current E63, a source confirmed to TopGear.com that the next generation hot C-Class, due in 2021, will be equipped with Drift mode, AMG's system that decouples the front driveshafts.
Beyond that the C63 is likely to retain its twin turbo 4.0-liter V8, although with power increased to combat the threat posed by the new BMW M3 due next year. That uses the new 3.0-liter twin turbo straight six recently seen in the X3M, where it develops 503hp. In flagship S guise we understand the C63 is likely to produce 542hp.
Combine this with 4WD and Merc's multi-clutch transmission and we'd expect a 0-100kph time in the low three-second range. The traction and all-weather usability of 4WD, plus the ability to do massive skids. What's not to like?
Hybrid is likely to make an appearance in the C53 which, if it borrows the gasoline-electric powerplant directly from the current E53 and CLS53, will produce about 429hp. Let's not worry too much about that—the top-line AMG C-Class should survive another generation with pure internal combustion power.
But a pure rear-wheel drive Merc super-sedan? It looks like that dies with the current C-Class. Well, provided you discount the S63 AMG. Come to think of it, how good might that be with 4WD and Drift mode?
What think you web land? Is 4WD and Drift mode the future? Or does the demise of rear-drive have you reaching for life's rewind button?
ADVERTISEMENT - CONTINUE READING BELOW ↓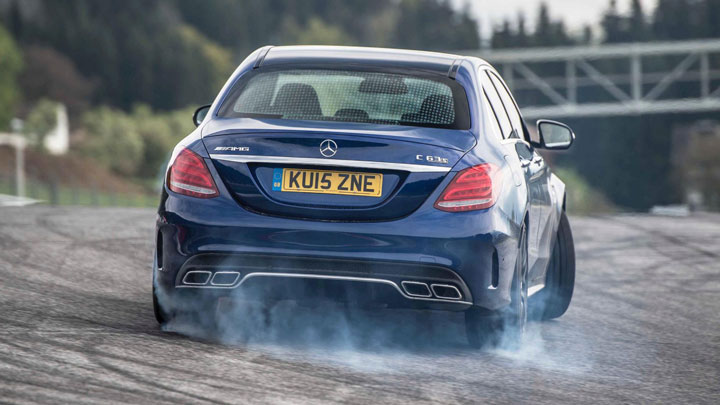 NOTE: This article first appeared on TopGear.com. Minor edits have been made.
ADVERTISEMENT - CONTINUE READING BELOW ↓
Recommended Videos