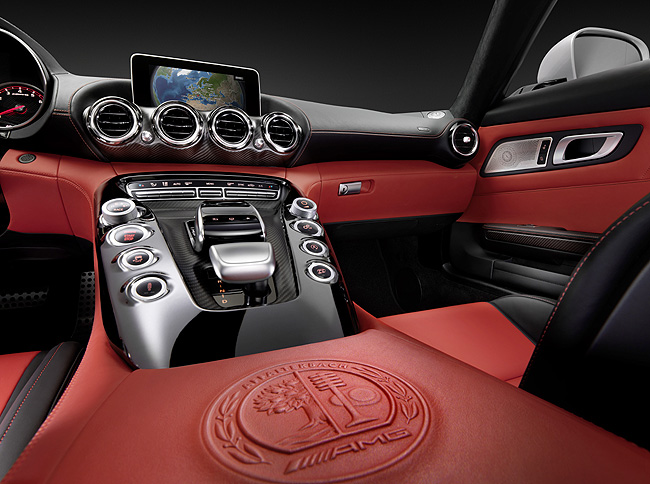 Mercedes-AMG has revealed the interior of its next-generation supercar--simply named Mercedes-AMG GT for now--whose public debut is expected to take place later this year.
According to Mercedes-Benz's high-performance arm, the interior of the GT "embodies emotion and sensuality like no other sports car."
Dominating the car's interior is an aviation design theme, with the dashboard emphasizing its width, "creating an impression of a powerful wing." Supporting the aviation theme even further are four central spotlight-style vents as well as the vents at the left and right ends of the dashboard. The center console, meanwhile, is supposedly shaped like a NACA air intake. Among the clever design features are the controls on the AMG drive unit, which are arranged like eight cylinders in a V layout, "further bolstering the powerful and high-tech impression made by the center console."
As for the engine, the only information Mercedes-AMG has released so far is that this GT will be powered by an AMG-tuned V8 powerplant.
Should Ferrari and Porsche be afraid of the Mercedes-AMG GT?