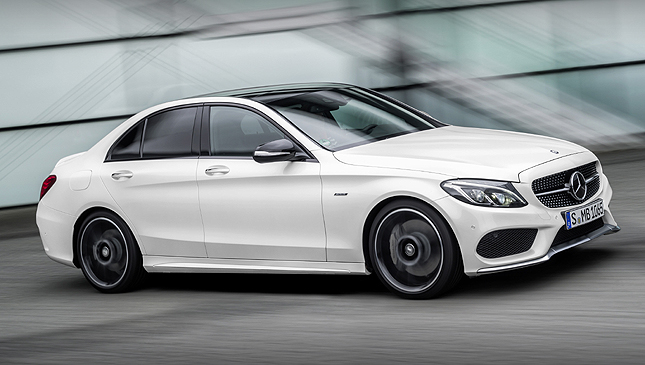 The name Mercedes-Benz is usually associated with stately sedans ferrying dignitaries, heads of state, and people who have "made it" in the corporate world. True enough, men and women who can afford such luxury have chosen the brand since the mere sight of the three-pointed star is enough to part traffic just like Moses parted the Red Sea. Beyond the status symbol it connotes, the Chedeng likewise offers the riding comfort and bank-vault solidity that befits an automobile of such stature.
Yet those who really know the German marque are likewise aware that it also has a sporty side. And this playful and sporty character can be summed up in three letters: AMG. Just like BMW's M Division, AMG is responsible for tuning your father's Merc into a high-performance machine that feels so good to drive.
For its latest offering, Mercedes-AMG turns the compact C-Class into an all-weather sporty performer. Enter the new Mercedes-Benz C450 AMG 4Matic, which is available in sedan and wagon versions.
Just one glance at the new Merc and you will immediately know that it has performance written all over it. The AMG bodykit, badging and other components all make for a statement that tells other motorists to get out of your way.
Continue reading below ↓
Recommended Videos
This Benz packs a potent 3.0-liter V6 biturbo engine that puts out a whopping 367hp and 520Nm. Paired with the 7G-Tronic Plus automatic gearbox and an AMG-tuned permanent all-wheel drive system, the car can blast from 0 to 100kph in supercar-like 4.9 seconds, and hit an electronically governed top speed of 250kph. Oh, and did we mention that it is Euro 6-compliant and averages 13.16km/L? How cool is that?
Just like its C63 AMG stablemate, the C450 AMG 4Matic is about performance and driving pleasure. This time, however, the addition of all-wheel drive gives drivers that extra ounce of confidence to tackle any weather and road condition. And this is what the AMG driving experience is all about.
Interested? Head to the nearest CATS Motors showroom to see if they can arrange an indent order.