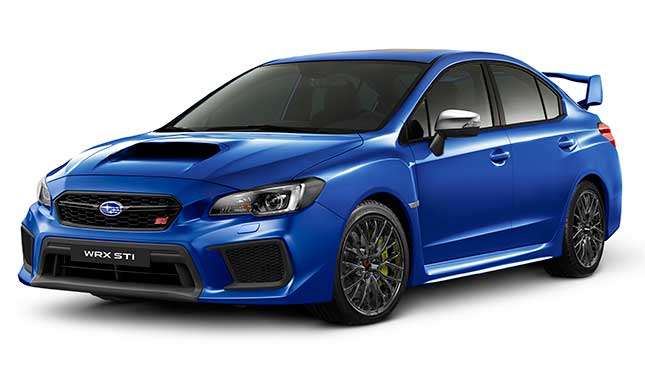 The updated Subaru WRX and WRX STI are coming to the Philippines. Motor Image Pilipinas, the Japanese carmaker's local distributor, has announced the two models will be available by early September 2017.
Both AWD cars come in the middle of what has been a very busy year for Subaru, which brought in the all-new Impreza and refreshed BRZ earlier this year. The all-new XV is also slated for its Philippine launch this coming September.
First seen at the 2017 Detroit International Auto Show, the WRX and its STI sibling come with a variety of aesthetic and performance enhancements. The front-end has been given a restyled grille, a meaner fascia, and LED steering responsive headlights. Unfortunately, those of you expecting to ride on the model's first-ever 19-inch alloys (as seen in US-spec units) will be disappointed, as both the WRX and STI only come with 18-inch wheels.
Continue reading below ↓
Recommended Videos
Meanwhile, the interiors get better materials and an updated trim on the dash and doors. STI models will get dimpled leather steering wheels with red stitching, too. Entertainment duties are handled by a six-speaker setup and an infotainment touchscreen with Bluetooth and voice command capability.
The WRX is still powered by a 2.0-liter turbocharged gasoline boxer engine with an output of 264hp and 350Nm good for a top speed of either 215kph for the base 6MT variant, or 240kph for the Sport Lineartronic model. Likewise, the STI gets no extra output from its 2.5-liter turbocharged boxer, which still produces 296hp and 407Nm—good for a top speed of 250kph. The STI will only come with a six-speed manual transmission.
The same engine doesn't necessarily equate to the same performance, as both cars now come with high-performance Brembo brakes. The STI also has an improved driver-controlled center differential. Safety-wise, both vehicles are equipped with airbags from top to bottom, though rear vehicle detection is absent in base variants.
Here's the best part: a Subaru representative has confirmed there will be no changes in price.
*Subaru WRX 2.0 MT – P1,818,000
*Subaru WRX 2.0 CVT – P1,888,000
*Subaru WRX STI+W 2.5 MT – P2,498,000
*Subaru WRX STI 2.5 MT – P2,598,000
More looks and a bit more performance for the same price? That sounds like a pretty good deal to us. Are you excited for September yet?
UPDATE as of June 11, 2018: Motor Image Pilipinas, Subaru's local distributor, has revealed its official 2018 price list. This makes the Japanese manufacturer only the fourth local carmaker to make such an announcement, following in the footsteps of Honda, Toyota and Lexus. The entire Philippine Subaru lineup will see a 5% increase beginning February 1, the company told us. The vehicle with the largest jump is the Outback, which goes from P2,288,000 for its top-of-the-line 3.6 CVT variant to 2,408,000—a P120,000 difference. The least affected of the bunch are the base model XV and Impreza, which only go up by P70,000. You can check out the full price list straight from the manufacturer in this link. Unlike the three car companies with published 2018 prices, Subaru doesn't have any models that dropped in price or stayed the same. That's a bit of sad news for fans of the brand and its reputation for offering standout all-wheel-drive performance.