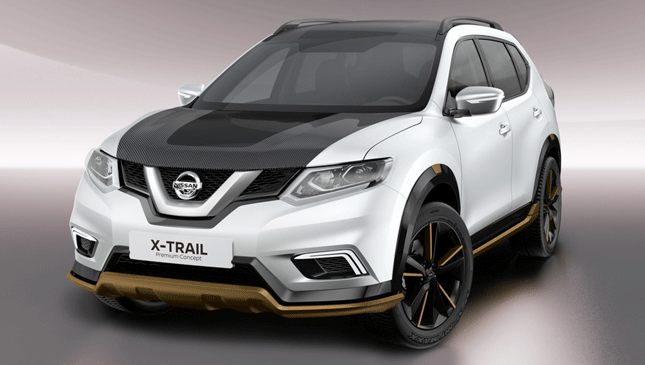 As far as crossovers go, Nissan's offerings are arguably some of the more premium of the bunch. The X-Trail in markets like ours, and the Qashqai for the European continent lend an air of refinement to the segment while still being capable vehicles on and off the road.
Don't believe us? Then maybe Nissan's latest concepts for its two compact SUVs might serve to reinforce this notion. The X-Trail and Qashqai Premium concepts are the Japanese carmaker's take on SUVs that aim to capture a younger and more sophisticated market.
The X-Trail Premium Concept, for instance, follows the lifestyle of what the company calls a Premium Adventurist--someone who loves the good life but still enjoys roughing it up in the dirt. This is embodied by the black carbon-fiber hood and roof that contrast with the matte-white paint scheme. The look is enhanced by gloss-black cladding and overfenders, along with golden-copper front skid plates and stylish 20-inch rims.
Styled at Nissan's Global Design Center in Japan, the concept X-Trail features tan-and-black contrasting leather seats that are tailored in premium cowhide and ultrasuede upholstery. Matte-chrome and black-carbon trims are used on the dashboard and the door panels for a more upscale feel.
The Qashqai Premium Concept, on the other hand, is a true Euro SUV thanks to its Premium Urbanite design language. Penned at the Nissan Design Europe in London, this concept is aimed at customers who enjoy soaking up the rich culture of places like Rome and Paris. Unlike the white-set X-Trail, the Qashqai has black for its dominant color. This is offset by golden-copper accents on the headlamp clusters, the window line, the wheel arches, and the roof rails. More copper can be found on those beautifully machined 20-inch alloy wheels as well.
ADVERTISEMENT - CONTINUE READING BELOW ↓
The premium theme continues on the inside, with white nappa leather upholstery and quilting on the seatbacks and seat base. This is accented by a golden-copper weave and satin-black trim on the steering wheel and the gear lever.
The Qashqai and X-Trail Premium Concepts will be displayed at the upcoming Geneva Motor Show. While these two crossovers are purely for show purposes, they still demonstrate just what Nissan is capable of when it comes to sprucing up its rides.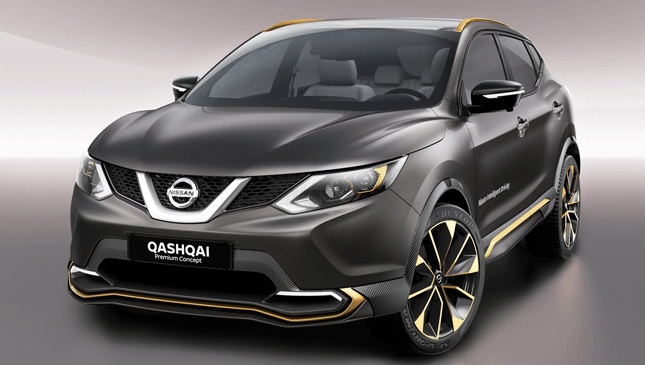 ADVERTISEMENT - CONTINUE READING BELOW ↓
Recommended Videos