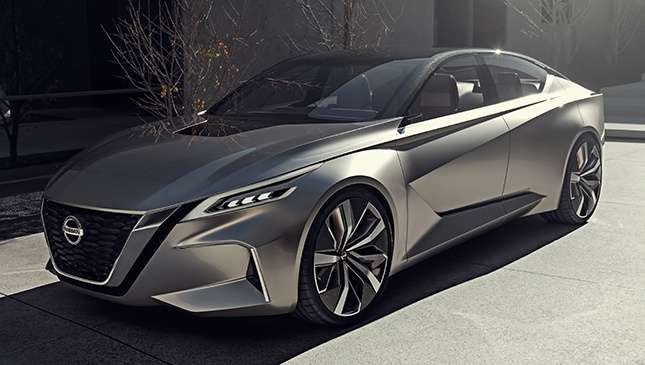 Over the past two weeks, our feeds have been chock-full of interesting-looking concepts. From the chic and sexy to the quirky and downright bizarre, both the Consumer Electronics Show and the ongoing Detroit Auto Show have provided us with more than our fill of futuristic rides and tech.
Thankfully, Nissan's foray into ultra-modern territory leans more toward sexy than Jetson-esque. The Vmotion 2.0 concept was just recently unveiled, giving us hope that if our future is to man the wheels of cars which are smarter than us, we'll at least be doing so in style.
Prominent character lines, muscular proportions, swept-back headlights, boomerang-style taillights, a large grille, and an aggressive demeanor courtesy of an extended wheelbase and monstrous air intakes up front lend this concept an edgy, futuristic appeal without straying too far from the realm of possibility. A floating roof with a panoramic view, warm silver paint job and a distinct body surface, meanwhile, lend it an air of panache more akin to luxury brands.
Continue reading below ↓
Recommended Videos
We totally dig the car's nerdy side, too. The car's changing hue (which changes depending on which angle you view it from), glowing diffuser out back, carbon finishes, dashboard-dominating screen, and a whole range of state-of-the-art safety features go hand-in-hand with the entire idea of 'intelligent mobility' driving this and countless other concepts.
Nissan chief creative officer Shiro Nakamura calls the Vmotion 2.0 the ultimate expression of the company's vision and values, adding that the concept we see here is a preview of what we can expect from the Japanese carmaker's designs in the future. "It is an insightful proposition of what the future sedan could be in the coming years," he says.
If this is the case, we're all for it. The Vmotion 2.0 looks safe, smart, futuristic and pretty doable. Maybe the car itself won't make it past auto show displays and its concept status, but at the very least we can expect future Nissans to turn to it for inspiration.