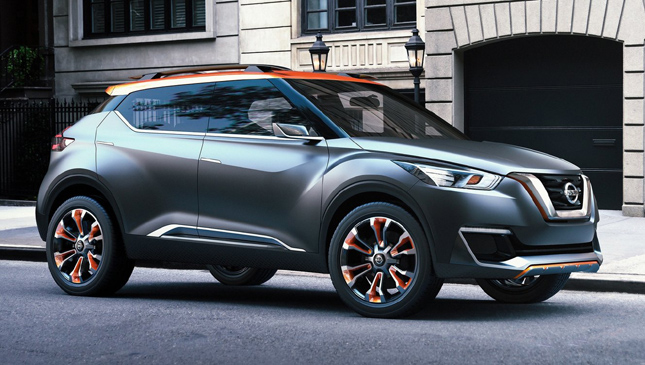 It's official: Nissan is coming out with an all-new crossover based on the Kicks concept displayed at last year's Buenos Aires Motor Show. The vehicle's production version will retain the Kicks moniker; it will be sold globally, beginning in Latin America.
The announcement was made by Nissan president Carlos Ghosn after the attention the Kicks had received since its debut at the 2014 Sao Paulo Motor Show. The concept was created via a collaboration between Nissan Design America San Diego and Rio, under the leadership of the Japanese carmaker's design center in Japan.
Ghosn says that the company's success with crossovers such as the Juke and the X-Trail are proof of the brand's leadership in the popular vehicle segment, adding that the Kicks will continue the trend.
"Nissan invented the first crossover in 2003, with the Murano," he said. "Since then, we've established our global crossover leadership with vehicles like the Juke, the Qashqai and the X-Trail--which have been great successes. The Kicks will bring Nissan's unique crossover expertise to more regions."
Nissan Brazil president Francois Dossa expressed the same sentiments as Ghosn, saying that he was extremely excited to begin production of the vehicle in their region.
"When our team from Nissan Brazil collaborated with our colleagues in Japan to create the Kicks concept vehicle, which was inspired by our country and culture, the result was extraordinary," he declared. "And now, we're excited that our manufacturing team in Resende is preparing to build it with top-notch Japanese precision."
Continue reading below ↓
Recommended Videos
Frankly, we're excited as well. We already know that the ride is a looker. With its sleek lines, aggressive proportions, and a front end slightly reminiscent of the universally loved GT-R, there's little doubt the Kicks will be one of the sportiest-looking crossovers out there.
According to the press release, studies on the model's viability in other regions and markets are currently ongoing. There's every reason to believe this baby will reach ours.