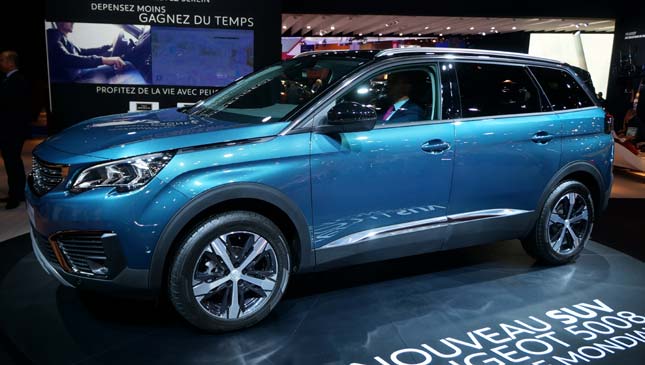 Amidst the sports cars and supercars, and nestled between concept cars and design studies lay Peugeot's brave new triumvirate: the all-new 3008, 5008 and Traveller MPV/minivan.
The 3008 and 5008 have shed their awkward crossover/MPV stature and have become full-fledged compact crossover SUVs. Demand for crossovers considerably grew throughout the world. In 2017, Peugeot sees itself moving half a million units of the two models throughout major markets in Europe, South America and Asia.
These three cars are built on top of Peugeot-Citroen PSA's Efficient Modular Platform (EMP2), which uses transverse three- and four-cylinder gasoline or diesel engines, all turbocharged with a range of six-speed transmissions in both automatic and manual trims driving the front wheels. Suspension is a MacPherson strut design up front and multi-link rear.
There are plans of a hybrid version, which will power the rear axle, giving the 3008, 5008 and Traveller AWD. Of note is that the EMP2 platform has been licensed to and will form the basis of some Toyota and Opel low-cost vehicles destined for European markets.
The 3008 is expected to be the major volume seller as it is the right size for tight Parisian streets, crowded Southeast Asian cities and mountainous South American locales. The 5008 is essentially a bigger, roomier version of the 3008, but without the third row, seven-seater arrangement. The new Traveller, which will replace the Expert Tepee full-size van, will also take the slack left behind by the 5008 as it will be available in three lengths: 4,600mm, 4,900mm and 5,200mm. Seating arrangements range from six to nine. These cars will be built at Peugeot's Sochaux factory, the world's oldest operating automotive factory and the brand's spiritual home. In this facility, a car leaves the assembly line every minute.
Interestingly, China will spawn its own unique long-wheelbase 3008, which is 50mm longer than the normal model but still much shorter than the 5008. The increase in wheelbase provides it with more rear seat space for the typically chauffeur-driven Chinese market. This will be called the 4008. Gasp.
ADVERTISEMENT - CONTINUE READING BELOW
The EMP2 platform is lighter by at least 100kg compared to its predecessor, uses lots of high-boron lightweight, high-strength steel and aluminum, which in conjunction with the safety features of all three cars have allowed it to receive a five-star crash test rating at the Euro NCAP tests. Fully built-up, these cars are more fuel-efficient, consuming as much as 1L less per 100km traveled.
The other big news is Peugeot's direction to go upmarket. The brand's new CEO, Jean-Philippe Imparato, told the Philippine media in a casual sit-down lunch by the Seine River that the company will not be focusing on moving volume, but rather on improving the overall value and ownership experience of the car. "The French can do beautiful things without being too expensive," he said.
Thus, the 3008, 5008 and Traveller all feature vastly improved interior cabin quality in terms of fit and finish, rigidity, solidity and trim materials. From the dashboard and door siding plastics, the gray-aged oakwood trim, the aluminum accents, combination Alcantara/leather and fabric seats, and the piano-key switchgear all feel very classy, upmarket and elegant in a way only the French can think of.
The second big bit of news is regarding the i-Cockpit Version 2. It now uses a large 12.3-inch LCD display in lieu of a traditional analog instrument cluster, just like Audi's Virtual Cockpit and Volkswagen's Active Info Display Monitor. You can switch from a variety of information to be displayed: from a traditional speedometer/tachometer combo, to navigation and route guidance, to a combination of other vehicle parameters. With the adjusted steering column, the i-Cockpit finally gets the praise it deserves and--quite frankly-- it's not a hindrance anymore to good driving positions.
While embracing the mainstream, Peugeot is still resolutely French in style and flair. The decision to focus on improving quality, ownership experience and long-term brand equity will surely help cement Peugeot as a true global player.
ADVERTISEMENT - CONTINUE READING BELOW