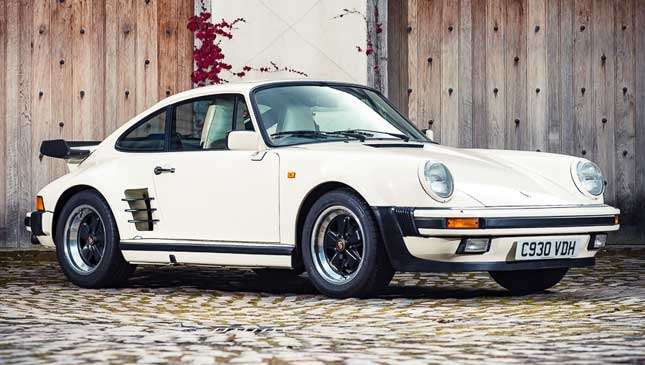 Without knowing anything about its history, you could probably surmise that the Porsche 911 Turbo SE pictured above is a thing of beauty. Manufactured in 1985, the sports car has a six-cylinder, 3.3-liter turbocharged and intercooled engine that produces 300hp. It also has vented rear wheel arches to cool the rear discs, sill extensions, polished wheel rims, and a special soft leather trim.
But there's something else that makes this Porsche one of a kind: Its first and only owner was Judas Priest guitarist and songwriter Glenn Tipton. The story goes that in 1985, the musician decided to order himself a 911 Turbo. After hearing of the SE variant from a local dealer, he arranged to pick-up a one-off Chifron White unit direct from the factory while the band was touring Europe. He loved the car so much that he named an album (Turbo) and a song ("Turbo Lover") after it.
Continue reading below ↓
Recommended Videos
With less than 25,000km on the odometer, this right-hand-drive car will be sold by Silverstone Auctions in the UK later this month. It's estimated price goes as high as around P14.9 million. Steep, but it's the price you pay for what's essentially a living, breathing pop culture artifact. Let's just hope its new owner uses it more for living after midnight rather than breaking the law (Sorry, we couldn't help ourselves).